Tasty Apple Jalebi Recipe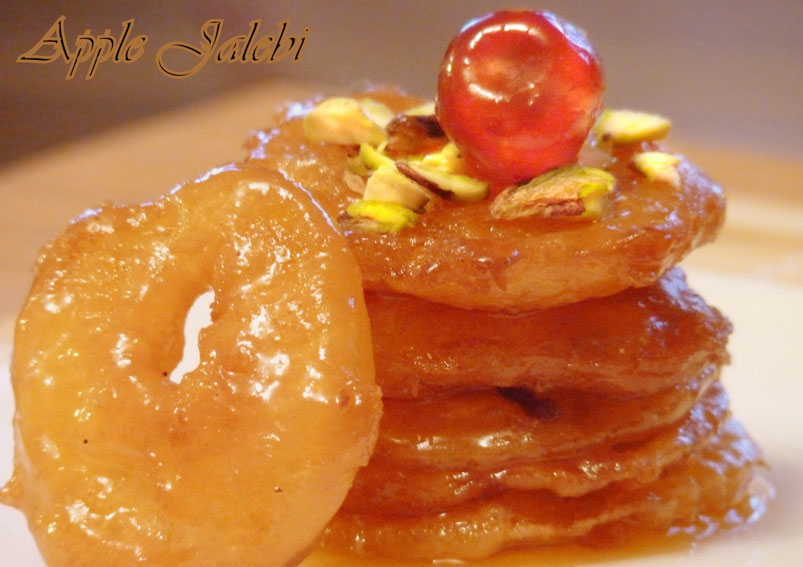 Apple Jalebi can be best describe as apple rings dipped in the flavorful sugar syrup. This is a modified version of jalebi. They taste best when served hot. It is perfect for any festive occasion. Let's follow this tasty recipe.
Ingredients
For The Jalebi Batter
1/2 tspdry yeast
1 tspsugar
1 cupplain flour (maida)
1 tbspmelted ghee
oilfor deep-frying
For The Sugar Syrup
1 cupsugar
1/2 tspsaffron strands
a pinchof saffron colour
2 tsprose water
1 tbspmilk
For The Garnish
1/2 tspcardamom (elaichi) powder
10-12pistachio slivers
a fewrose petals
Directions
For the jalebi batter
In a bowl add yeast, 2 pinches of sugar and ½ cup of lukewarm water and mix it well.
Sprinkle 2 pinches of plain flour on top, cover with a lid and keep it aside to rest for 3 to 4 minutes and when the bowl is full of froth, the yeast is ready to use andkeep it aside.
In a bowl add plain flour, sugar, ghee, yeast liquid, and some warm water (approx. ½ cup) and mix it well to make a thick batter.
Cover with the lid and keep it aside to rest for 40 to 50 minutes and mix it well again.
For the sugar syrup
Warm the saffron in a small vessel, add milk and rub until the saffron dissolves and keep it aside.
In a kadhai add sugar and 1 cup of waterand cook on a medium flame for 8 to 10 minutes or till the sugar dissolves completely and the syrup is of 1 thread consistency.
Add the saffron-milk mixture, saffron color and rose water, mix well and cook on a slow flame for 2 more minutes and stir continuously and keep the syrup warm.
How to proceed
Heat oil in a kadhai, dip the apple rings into the batter a few at a time and deep-fry in oil till they turn golden brown in color and crisp from both the sides and drain it well and keep it aside.
Place the apple Jalebi in the warm sugar syrup one by one, soak for 1 minute and transfer to a serving plate.
Garnish with cardamom powder, pistachios, and rose petals and serve it hot.
Check More Sweet Recipes
Meghna Nath
This Recipe Rate :
(0) Reviews