Paneer Jalebi Recipe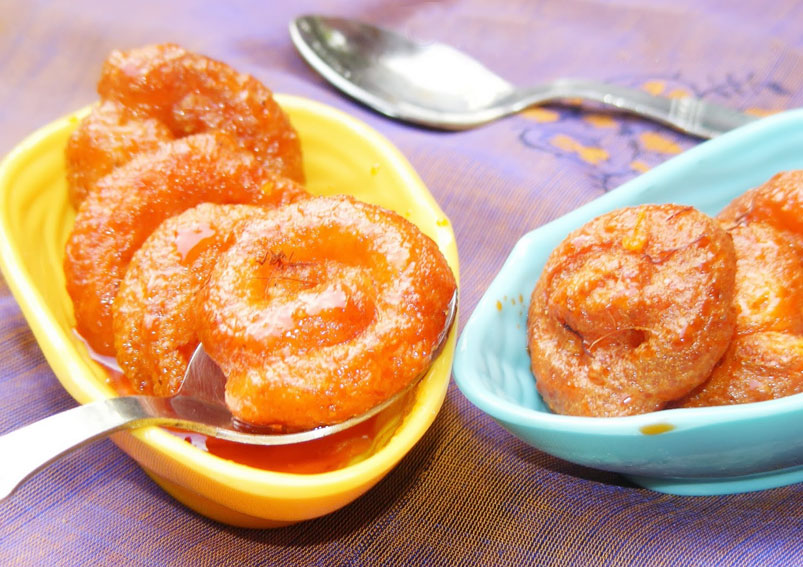 Paneer Jalebi is made from Indian Cottage cheese. Paneer Jalebi is a very popular sweet dish. Just put it in your mouth you will fell soft delicious taste of paneer in your mouth. It is an awesome desert for paneer lovers.
Ingredients
4 cupsMilk (full fat milk)
4-5 tbspLemon juice
1/2 tspCardamom powder
2-3 tspflour/maida (any)
1/4 tspBaking powder
Oilfor deep frying
2-3 tbspMilk
4Garlic sliced thin
¼ tspRed chili flakes garnish
1 tbspFresh cilantro finely Chopped
(For sugar syrup)
1 cupSugar
1/2 cupWater
a fewSaffron strands
2-3 podsCardamom (crushed)
Directions
For making Paneer
Boil milk in a deep pan and add lemon juice when the milk starts to boil and keep stirring until the milk starts to curdle and let the extra water become clear.
Line a sieve with a cotton cloth and pour the curdled milk into it and wash the strained paneer under running water to remove the strains of lemon juice added.
Place the sieve in a bowl and place it aside for 30 minutes until the water has been drained out and transfer the paneer to a plate.
Add flour, baking powder, cardamom powder, milk and paneer and knead well to a smooth dough and cover with a cloth and keep it in a refrigerator for 10-15 minutes.
For sugar syrup
Take sugar, water, saffron and cardamom pods in a pan and boil it on a low flame until the syrup becomes little sticky and keep it aside.
How to proceed
Pinch small ball out of the dough and roll the ball into a long thick rope and shape the rope into a swirl and keep it aside
Heat oil and deep fry the Jalebi one by one until it attains a nice golden brown color.
Remove from the oil using slotted spatula and add it to the warm sugar syrup.
After soaking for 2-3 hours in the sugar syrup the delicious paneer jalebi is ready to serve.
Also, Read Homemade Jalebi - Sweet Recipe
Meghna Nath
This Recipe Rate :
(0) Reviews