Easy Corn and Vegetable Paratha Recipe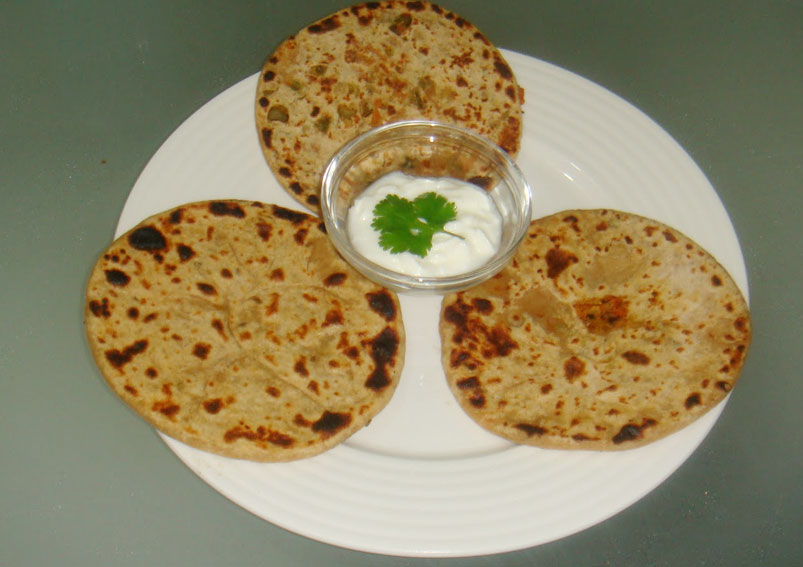 A mouth-watering breakfast recipe, Corn, and Vegetable Paratha is tasty and wholesome paratha. This paratha has an amazing taste, flavor, and texture and also has a nice flavor of mint leaves.This is very easy to prepare with a just few ingredients within few minutes. You can relish this soft and tasty paratha for your morning breakfast with any side dish. Try this flavorful paratha at your home.
Ingredients
For The Dough
1/2 cupplain flour (maida)
1/2 cupwhole wheat flour (gehun ka atta)
1 tbspmelted ghee
To Be Blended Into A Mint paste (for The Dough)
1/4 cupmint leaves (phudina)
1/2 tsplemon juice
1/2 tspcumin seeds (jeera)
3green chilies, roughly chopped
saltto taste
For The Stuffing
3/4 cupboiled and coarsely crushed sweet corn kernels (makai ke dane)
1 tbspoil
1/4 cupchopped onions
1/2 cupfinely chopped cabbage
1/2 cupboiled, peeled and chopped potatoes
1 tsplemon juice
1/2 tspgaram masala
1 tbspfinely chopped coriander (dhania)
1 tspgreen chili paste
1 tspsugar
saltto taste
Other Ingredients
plain flour(maida) for rolling
oilfor cooking
Directions
For the dough
In a blender, add mint leaves, lemon juice, cumin seeds, green chilies, salt, and blend to a smooth paste.
In a deep bowl, add plain dough, wheat dough, ghee, and mint paste and mix it well and knead into a semi-stiff dough by using enough water.
Cover it with a muslin cloth and keep it aside for 10 to 15 minutes.
Divide the dough into equal portions and keep it aside.
For the stuffing
Heat the oil in a broad non-stick pan, add the onions and fry on a medium flame for 1 to 2 minutes or till the onion turn translucent.
Add the cabbage and fry on a medium flame for 1 to 2 minutes and then add chopped potatoes, garam masala, chopped coriander leaves, chili paste, sugar, salt and mix it well and cook on a medium flame for 1 to 2 minutes and stir occasionally.
Divide the stuffing into equal portions and keep it aside.
How To Proceed
Roll out a portion of the dough into a 125 mm. (5") diameter circle by using a little plain flour.
Place a portion of the stuffing in the center, fold the edges towards the center and press well to seal it so the stuffing doesn't spill out.
Roll out again into 100 mm. (4") diameter circle with the help of a little plain flour.
Heat a non-stick tawa (griddle) and cook each paratha by using a little oil and cook till golden brown spots appear on both the sides of the paratha.
Once done, transfer it to a serving plate and serve it with any pickle of your choice.
Meghna Nath
This Recipe Rate :
(0) Reviews