Spicy Moong Dal Khasta (Crisp) Kachori Recipe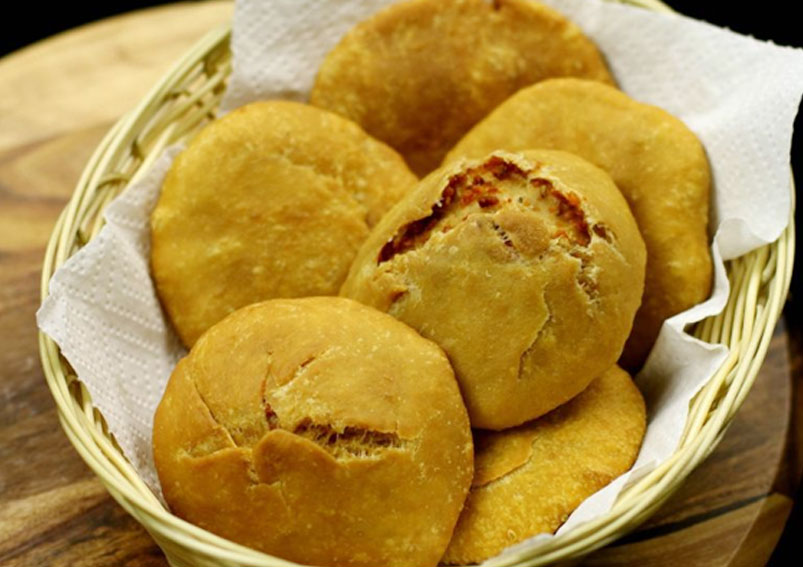 Moong Dal Khasta (crisp) Kachori are famous all over India and an all time favorite. This kachori is one such snack recipe made with all purpose flour, moong dal and loaded with various spices. This is extremely delicious and flavorful recipe.
Ingredients
For the Dough
1/2 cupWheat flour
1/2 cupAll Purpose Flour (Maida)
1/4 teaspoonSalt
2 tablespoonsCooking oil
Chilled waterto knead the dough
For the Filling
1/2 cupMoong dal Namkeen( easily available in the market)
1 teaspoonsAsafoetida (hing)
2 teaspoonsCaraway seeds (Ajwain)
2 teaspoonMixed Spices, (cumin Powder, coriander Powder, red chili powder, dry mango powder, fennel powder, pomegranate seeds powder - Anardana, chaat masala powder)
Cooking oilfor deep frying
Directions
For making the Dough
Mix the flour, salt, and oil and rub the oil and flour between your fingers to get a breadcrumb like texture.
Add the chilled water slowly, mixing with your fingers and add just enough water to get all the dough together and knead to make a soft and smooth dough.
Cover the dough and let it rest for at least fifteen minutes.
For Filling of Khasta Kachori
Crush Moong Dal Namkeen in the blender to a coarse powder.
In a pan dry roast mixed spices for filling and mix it nicely with crushed moong dal and adjust salt and seasoning as per taste.
Method for making the Kachori
Once the dough has rested for 15 minutes, knead the dough just once more to make it smooth and divide the dough into large lemon size equal parts.
Take one part of the dough and with your fingers flatten the edges and make into a 3-inch circle and leave the center little thicker then edges around.
Mold the dough into a cup and place 1 teaspoon of filling in the center and pull the edges of the dough to wrap the dal filling and let the filled ball rest for 3 to 4 minutes before rolling.
Set the kachoris on a surface with the seams facing up and use the base of your palm, slowly flatten them into a 3 inch circle.
Preheat the oil for deep frying in a frying pan on medium flame and fry these stuffed moong dal kachori on medium-low flame.
After they start to puff, slowly turn them over to the other side and fry until golden brown on both the sides.
Serve the Moong Dal Khasta Kachori with green chutney.
Meghna Nath
This Recipe Rate :
(0) Reviews