South Indian Style Onion Tomato Chutney Recipe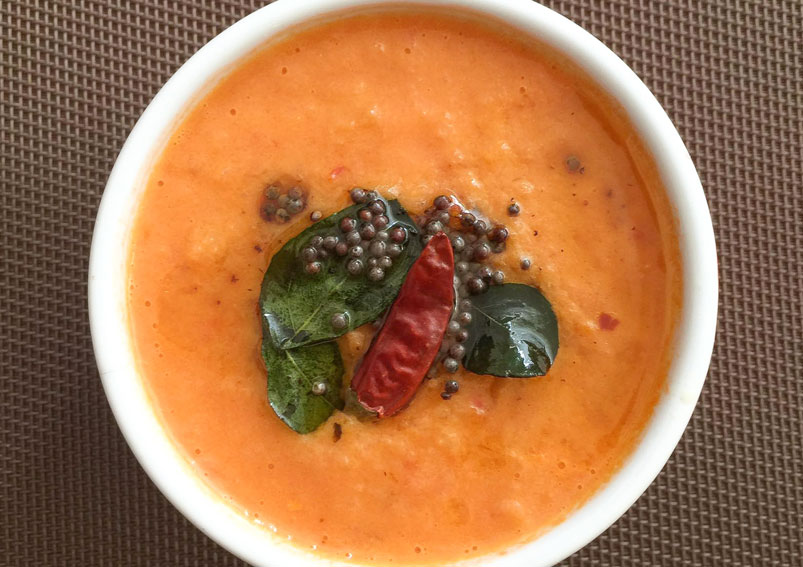 Onion Tomato Chutney is a famous South Indian recipe. This is one of those quick chutney recipes that can be prepared in minutes. It is a very easy chutney recipe with very few ingredients and goes well with idli and dosa.
Ingredients
1finely chopped medium

onion

1finely chopped tomatoes
¼ cupfresh or desiccated coconut
1 tbspred chili powder
1 tbspurad dal
½ to ¾ inchginger
saltas needed
smalllemon sized tamarind
pinchof turmeric
1 tspoil
For tempering
1 tspoil
¼ tspurad dal
1sprig curry leaves
¼ tspmustard
pinchof hing
1of hing
Directions
Finely chop onions, tomato, and ginger and keep it aside.
In a frying pan add oil and once oil gets hot add urad dal and also, add chopped onions and fry for 2 - 3 minutes.
Add finely chopped ginger and fry it for a minute.
Add chopped tomatoes and continue to fry and add salt and turmeric to the mixture and fry it.
Add desiccated coconut and fry until the mixture forms a paste ( you can use freshly grated coconut if you want) and keep it aside.
Transfer the fried mixture to a blender and add red chili powder, tamarind, and salt.
Grind them to a smooth paste.
Heat oil in a pan and urad dal, mustard, red chili, and hing and pour in the chutney.
Notes:
Adding coconut is optional, and you can prepare with just use onion and tomato.
Make sure you fry onion and tomato before grinding, otherwise, you would get a raw smell.
Check More Chutney Recipes
Meghna Nath
This Recipe Rate :
(0) Reviews