Easy Stuffed Brinjal Recipe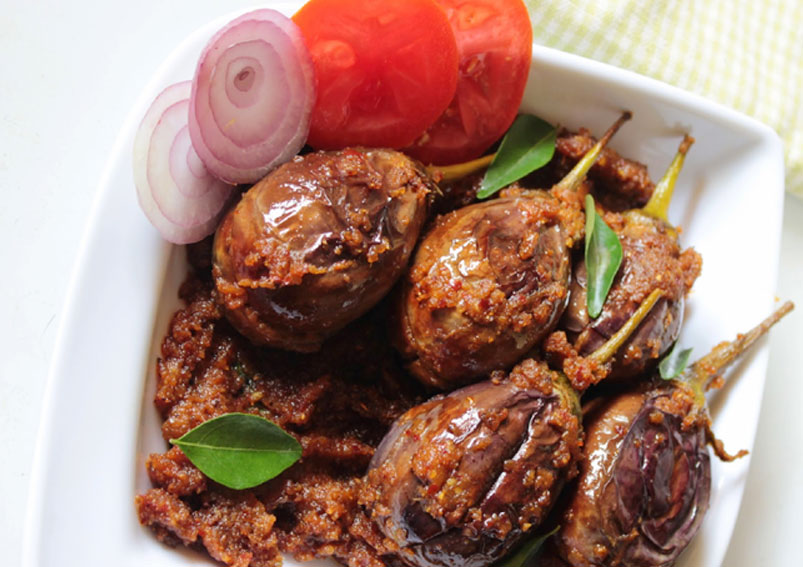 Enjoy the mouth-watering stuffed brinjal as a main dish with any Indian bread. The brinjals are slit and filled with a spicy mixture and then cooked in spicy mixture. Serve this for weekend lunch or dinner. Let follow this easy recipe.
Ingredients
300 gmbrinjals (baingan/eggplant)
3onions
2tomatoes
4pods of garlic (lehsun)
curryleaves (kadi patta)
1/2 cupsalted

peanuts

( easily available in the market)
2 tspsambar powder
1/2 cupoil
saltto taste
Directions
Wash the brinjals and remove their stem and make a cross on the top and cut it till the bottom of it, without breaking the brinjal into two.
Soak the brinjal in the salt water so they won't turn brown in color.
Blend peanuts, sambar powder, salt, 3 or 4 curry leaves and chopped garlic pods to a coarse powder.
Dry the brinjals with a cloth and stuff them with the ground powder and keep it aside.
Heat a broad pan with oil and add chopped onions and saute till they become golden brown.
Then add chopped tomatoes and saute till it becomes soft.
Then place the brinjals one by one with space between each of them and sprinkle some water and cover the pan with a lid till it gets cooked.
Keep turning the brinjal one by one till it gets cooked and remove from flame and garnish with chopped coriander leaves.
Serve it hot.
Also, Read Healthy and Best Aloo Palak Recipe
Meghna Nath
This Recipe Rate :
(0) Reviews