Grilled Rajma Masala Sandwich Recipe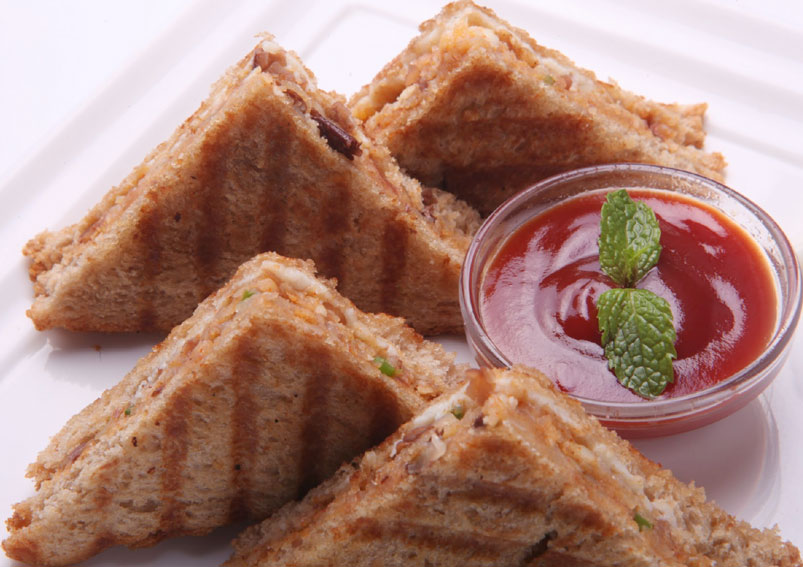 Here is a quick recipe of Grilled Rajma Masala Sandwich that you will love it. Sandwiches are a very good option for breakfast or for light munching whenever you feel hungry. Rajma( Kidney Beans) is a good source of protein, so include rajma in your daily diet.
Ingredients
6whole wheat bread slices
1onion, thinly sliced
2potatoes, boiled
1/2 cupcooked rajma (drain the water)
An inchpiece of ginger, grated
1clove garlic, chopped
1 teaspoonturmeric powder
1 teaspoonred chili powder
1 teaspoongaram masala powder
1 teaspoonchaat masala powder
saltto taste
Oilfor cooking
Directions
Soak 1/2 cup of rajma overnight and cook the rajma until soft and drain the excess water and keep it aside.
Boil the potatoes, peel the skin and cut the potatoes into small cubes and keep this aside.
In a skillet, heat a teaspoon oil, add ginger, garlic and saute for a few second and add the cooked rajma, chopped potatoes, and all the dry masala.
Mix it well and saute on medium high flame until you get a good rajma masala filling for the sandwich and check the salt and spices and adjust it according to your taste.
Once done turn off the flame and keep it aside to cool.
Once cooled, add thinly sliced onions and optionally green chilies chopped into the masala and this will give a good crunch to the sandwich.
To prepare grilled sandwich
Place the bread slices on the platform and spread a spoonful of rajma masala mixture over one slice and cover with another bread slice and press it down.
Spread some softened butter on the top slice and place it in a sandwich maker or grill pan with the butter side facing down.
Spread butter on the other side and grill the rajma sandwich until golden brown and crisp.
Serve the Grilled Rajma Masala Sandwich as a wholesome breakfast along with a fresh salad.
Meghna Nath
This Recipe Rate :
(0) Reviews