Spicy Sweet Potatoes Recipe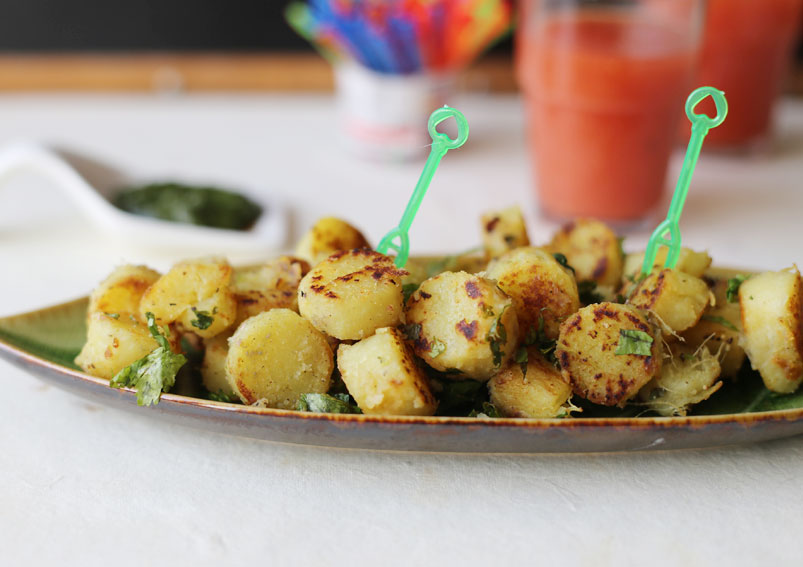 Spicy Sweet Potatoes are a super simple recipe. It is healthy, spicy, and tasty. If you are looking for a healthy version then try this sweet potato recipe. As sweet potato is a good source of vitamin C, manganese, copper, vitamin B6, potassium, dietary fiber, vitamin B1, vitamin B2, and phosphorus. Let's follow this recipe.
Ingredients
2 mediumboiled sweet potatoes
2 mediumboiled red sweet potatoes
1 tablespoonlemon juice
1 tablespoonginger juice
1/2 teaspoonsalt (adjust to taste)
1/2 teaspoonblack salt
1/4 teaspoonground red pepper (adjust to taste)
1/4 teaspoonground black pepper
1/2 teaspoonroasted ground cumin seed
For Garnishing
1minced green chili (adjust to taste)
2 tablespoonminced cilantro
Directions
Boil the sweet potatoes, don't over cook and peel the skin and slice them 1/8 inch thick.( it's easy to slice after potatoes are cooled).
In a bowl add black salt, red pepper, black pepper, cumin, ginger juice, and lemon juice and mix it well.
Spread the sweet potato slices on a plate and spread few drops of spice mix over every piece.
Arrange the sweet potatoes slices over red sweet potato slices and this provides a nice color white over dark pink.
Garnish them with minced green chili and chopped cilantro.
Serve them at room temperature.
Tips:
They can be prepared day before, garnish them just before serving.
If you prefer mild spicy take out the seeds from green chili before mincing.
You can use either white or red sweet potatoes.
Check More Appetizer Recipes
Meghna Nath
This Recipe Rate :
(0) Reviews