Tasty Hyderabadi Bagare Tamatar Recipe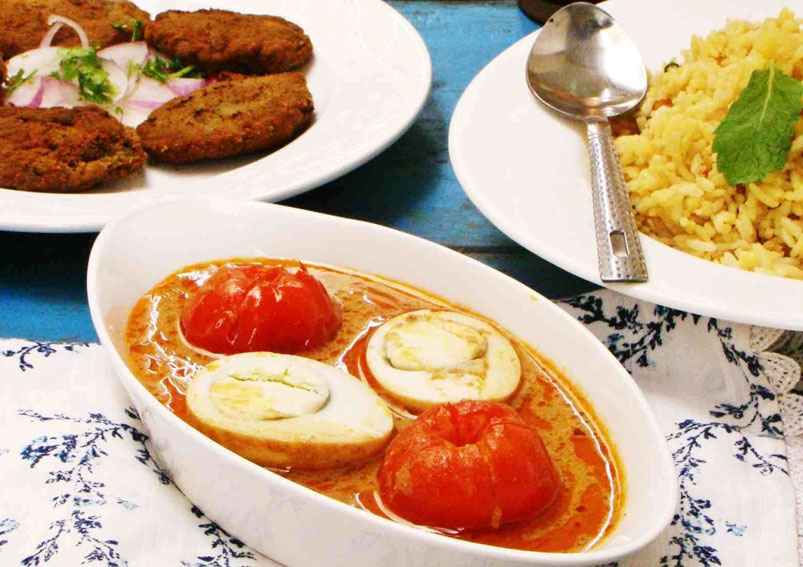 Hyderabadi Bagare Tamatar is one of the most popular dishes of Hyderabad This dish is rich, spicy curry of tomatoes cooked in rich nutty gravy. Serve this tasty dish for weekend lunch or dinner. Let's follow this recipe.
Ingredients
2Onions, finely sliced
2 teaspoonKhoya (Mawa)
2 teaspoonSesame seeds (Til seeds)
2 teaspoonRaw Peanuts
1 teaspoonRed chili powder
1/2 teaspoonKashmiri red chili powder
1/4 teaspoonTurmeric powder (Haldi)
1 teaspoonCoriander Powder, roasted
1/2 teaspoonCumin powder, roasted
3Cloves
1Cinnamon Stick
4cloves Garlic
1/4 cupTamarind Paste
4 tablespoonsCooking oil
Saltto taste
Forgarnish
3Whole Eggs, hard boiled and cut into half
Directions
First, wash and pat dry the tomatoes and remove the eye off the tomatoes and make X-shaped slits at the top and set them aside for later use.
Place a heavy bottom pan on the heat and when it is warm, dry roast sesame seeds, cloves, cinnamon, and peanuts, in separate batches. Take them out from the pan and set them aside to cool.
In a pan, add oil and when it gets warm, add sliced onions and saute them till they turn deep golden brown and drain them from the oil using a slotted spoon and set them aside for later use.
In the oil that remains in the pan, very gently and carefully toss tomatoes on a medium low until the skin of tomatoes get scarred and wilted and take them out of the pan and set it aside.
Blend roasted peanuts, sesame seeds, cloves, and cinnamon stick to a fine powder and add 1 tbsp. of water if required for easy grinding.
To this add fried onion slices and garlic cloves and grind to smooth paste.
In the pan add a little oil if required and pour in the ground masala and on low flame, toss it.
Add red chili powder, turmeric powder, salt, roasted coriander powder, roasted cumin powder and Kashmiri red chili powder.
Increase the flame to medium and fry it nicely and now add mawa and fry till oil starts to release from the sides.
Now gently drop the sauteed tomatoes and stir until they get nicely coated with the masala.
Reduce the flame and add tamarind juice along with 1½ cups of water and cook on a low flame until it reaches thick consistency or as desired.
If you are using boiled eggs, then drop them now and turn off the flame and leave it covered for 15 minutes.
Serve warm as a side dish for Biryani or with Lachha Parathas or Naans.
Meghna Nath
This Recipe Rate :
(0) Reviews