Colocasia Leaves Pakora Recipe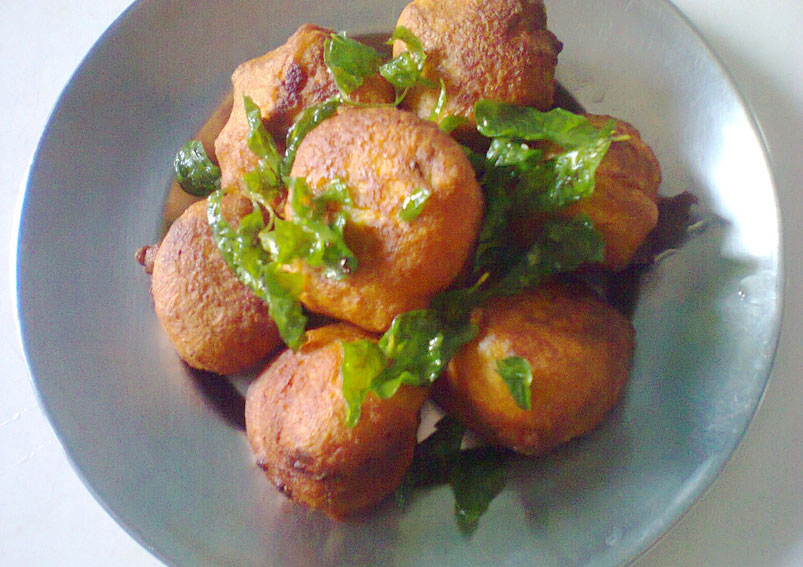 Colocasia Leaves Pakoras are a deep fried snack made from colocasia leaves. They are crispy and delicious and a perfect snack with a cup of tea. Colocasia leaves are a good source of vitamins C and E, potassium, magnesium, and folate. Follow this recipe.
Ingredients
5 to 6Colocasia leaves (arbi ke patte)
a pinchbaking soda
For The Batter
3/4 cupbesan (bengal gram flour)
1/4 cupwhole wheat flour (gehun ka atta)
1/4 cupoil
1 tbspchopped onions
1to taste
saltturmeric powder (haldi)
1/2 tspchili powder
1/2 tspcoriander-cumin seeds (dhania-jeera) powder
1/2 tspgaram masala
1/2 tspcarom seeds (ajwain)
2 tbspginger-green chili paste
1 tbspjaggery (gur)
3 tbspcurds (dahi)
1/4 tspasafoetida (hing)
Other Ingredients
Directions
Wash colocasia leaves and cut the veins and cut the leaves in small and thin strips and Add soda and rub thoroughly and keep aside for 5 minutes.
In a bowl add besan, wheat flour, and rice flour and add oil, salt, turmeric, chili powder, coriander-cumin powder, garam masala, carom seeds, ginger-green chili paste, jaggery, curd, asafoetida, and onions and mix it well.
Add enough water to make a thick batter and add colocasia leaves and mix it well.
Heat oil in a kadhai and deep fry a spoonful of the mixture on a medium flame till golden brown in color.
Serve hot with green chutney and tomato ketchup.
Meghna Nath
This Recipe Rate :
(0) Reviews