Janmashtami Special Gopalkala Recipe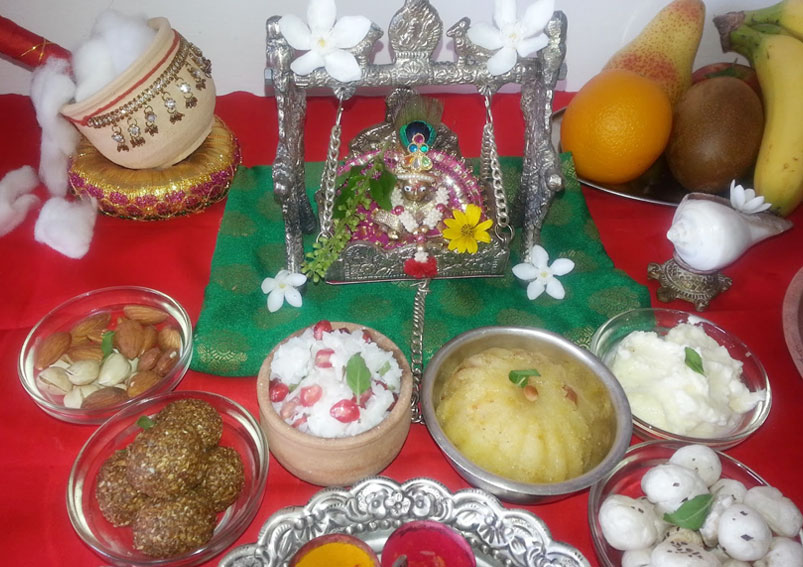 The Gopalkala Recipe is a popular offering to Lord Krishna on Janmashtami. This is a quick and easy recipe which you can prepare any time in the day. Gopalkala is a savory dish made of beaten rice, cucumbers, green chilies, coconut. Gopalkala is a scrumptious dish and also very nutritive. Try this dish at your home this festivals.
Ingredients
1 cupFlattened rice (Poha)
1Cucumber, peeled and chopped
3Fresh coconut, freshly grated
1 inchGinger, grated
Saltto taste
1Coriander leaves (Dhania), a small bunch chopped
Ingredients for seasoning
1 teaspoonGhee
1/2 teaspoonMustard seeds
1/2 teaspoonCumin seeds
2Green Chilies, chopped or slit
Directions
In a bowl, soak the beaten rice in water for 1-2 minutes and if the beaten rice is of a thicker variety then it would take about 5 minutes to soften.
Once flattened rice/poha softens, drain all the water from it and keep it aside in the strainer for a minute until all water is drained off.
Transfer the flattened rice in a bowl and keep it aside.
Heat ghee in a pan on medium flame and then add the mustard seeds and allow it to crackle.
Then add cumin seeds, green chilies, ginger pieces and fry for a minute and turn off the flame.
Add the seasoning to the flattened rice, along with yogurt, finely chopped cucumbers, grated coconut, salt and mix it nicely.
Finally add chopped coriander leaves and serve it.
Nutrient values per stick
Energy 25 cal
Protein 0.8 g
Carbohydrates 4.3 g
Fiber 0.2 g
Fat 0.5 g
Cholesterol 0 mg
Vitamin A 8.3 mg
Vitamin B1 0 mg
Vitamin B2 0 mg
Vitamin B3 0.3 mg
Vitamin C 0 mg
Folic Acid 2.1 mg
Calcium 11.8 mg
Iron 0.3 mg
Magnesium 0 mg
Phosphorus 0 mg
Sodium 2.7 mg
Potassium 18.1 mg
Zinc 0.2 mg
Meghna Nath
This Recipe Rate :
(0) Reviews