Delicious Puffed Rice Balls Recipe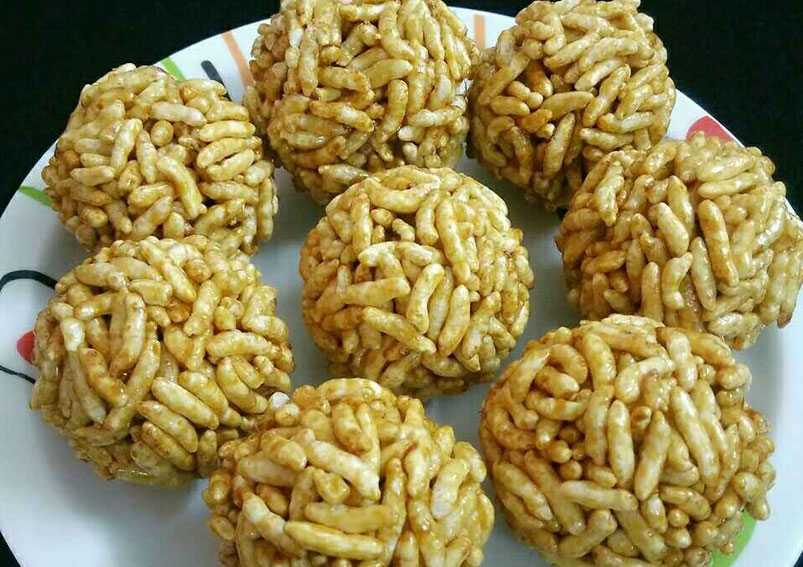 Puffed Rice Ball is a delicious Indian sweet recipe that you can make for your kids on special occasions and festivals. Puffed Rice Ball is extremely tasty. Try this easy balls recipe for your loved ones.
Ingredients
1/2 cupSugar
2 cups, approx

Puffed rice

1Cardamom
1 tspLemon juice
as neededSugar sprinkles (optional)
Gheeto grease
Directions
In a heavy bottomed vessel add sugar and water and cook on a medium flame till the dissolve the sugar completely.
Add lemon juice and mix it well and once sugar dissolves, start heating on medium flame and wipe the sides to remove any sugar grain/ sugar crystals and this is to prevent sugar crystallization.
Continue to boil on a medium flame and wipe the sides if you see any sugar syrup in the side gets browned.
At one point when the sugar syrup starts caramelizing and the sugar syrup starts changing color in the sides and then switch off the flame.
Lightly roast the puffed rice in a pan and add it to the syrup and mix it gently.
Add cardamom powder and sugar sprinkles (if you are adding) and leave it aside for a min.
Grease your hands with ghee generously and carefully take some puffed rice mixture ( it will be hot, so use your fingertips to take some mixture from the top, do not dig deep inside) and roll tightly into balls.
Tips
Please be careful while handling the puffed rice mixture as it will be hot.
Switch off the flame when you see the sides start turning golden in color otherwise, it will get deeper in color which could make it bitter.
Cool down completely before storing in airtight container.
You can add vanilla extract in place of cardamom.
Check More Sweets Recipes
Meghna Nath
This Recipe Rate :
(0) Reviews