Tri - colored Pasta Recipe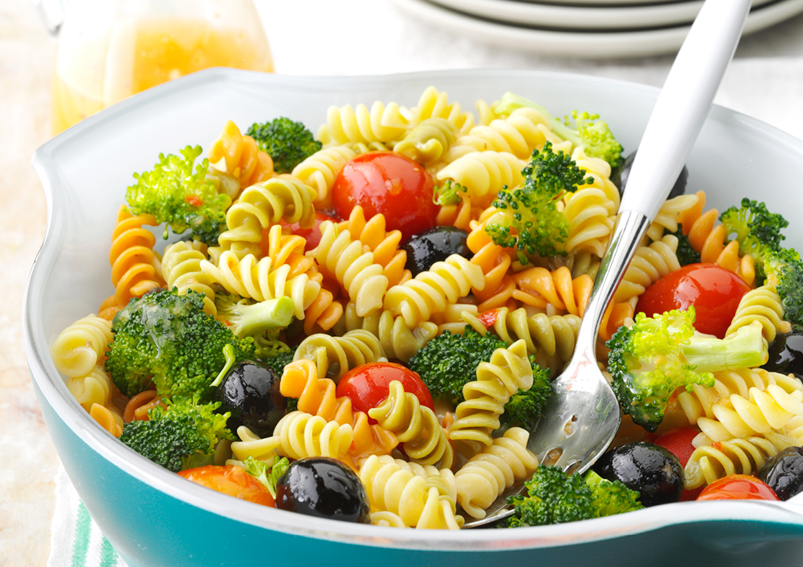 Tri-colored Pasta is a delectable snack recipe which is not just easy to make but is loved by kids too because of its amazing colors. You can pack this delicious pasta recipe for breakfast too. Try this easy recipe and enjoy with your loved ones.
Ingredients
1/2 lbGarden Rotini Pasta (1/2 of a 16 oz box) ( use any brand of pasta)
2Hard Boiled Eggs
1 eachBell Peppers (Green & Orange)
1/2 (sliced)Onion
2Garlic cloves (finely minced)
1 tspItalian Seasoning (easily available in the market)
1/2 tspBlack Pepper Powder
1/2 tspRed Chili Flakes
1 tbspSoya Sauce
1 tbspLemon Juice
2 tbsp

Olive Oil

as neededSalt
Directions
Cook the pasta as per the package instructions with some salt and drain the water and keep it aside.
Cut the whites of the hard boiled eggs into slices and you use the yolk for some other purpose or discard it.
Cut the bell peppers into thin strips( you can use any color of bell pepper).
Heat some olive oil in a frying pan or wok and add minced garlic and onion slices and fry for a minute.
Add bell peppers and fry for a minute and add the Italian seasoning, pepper powder, red pepper flakes and the egg white slices and toss it together.
Add soya sauce, lemon juice and a little salt (if needed) and add the cooked pasta and stir fry till everything mix together.
Check More Snack Recipes
Meghna Nath
This Recipe Rate :
(0) Reviews