Kanji Probiotic Drink Recipe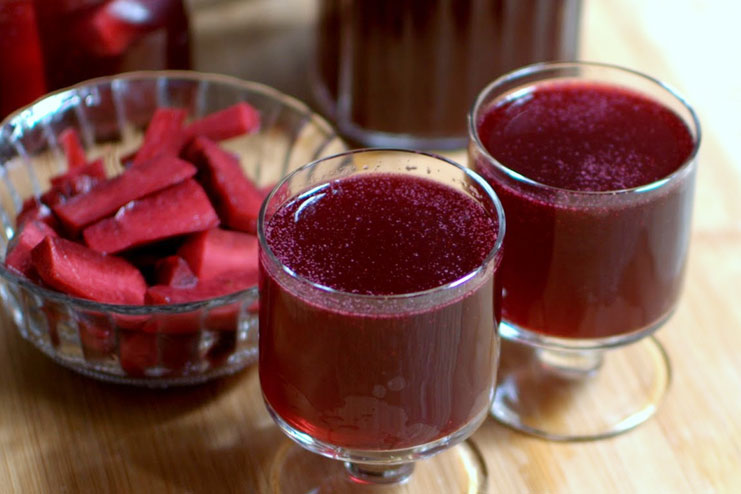 Kanji is an Indian probiotic drink made from carrot and beetroot. This drink is traditionally made during any festivals. This delicious drink is refreshing and is helpful in digestion. Try this recipe that has the goodness of carrot and beetroot.
Ingredients
2 large

black carrots

1 largebeetroot
2coarsely ground mustard powder
1-1/2 teaspoonschili powder
10-12 cupsof water
Saltto taste
Directions
Wash and peel the carrots and beetroot and cut them into thick and long strips.
In a bowl add carrots and beetroot and add salt, chili powder, and mustard powder and mix it well.
Add the 10-12 cups of water to it (depending on how sharp) you want the Kanji and store the Kanji for fermentation in a glass jar or ceramic pot.
Cover the jar with a muslin cloth and tie it tightly around the rim with a thread, so that the jar is completely sealed.
Place the Kanji filled Jars in the sun for 3 to 4 days, so it can get fermented.
Bring it back inside in the night and before you put it back in the sun, open the muslin cloth, stir the Kanji well and cover it back again tightly and allow it to ferment in the sun the next day.
You will know that the Kanji is fermented when it turns slightly sour and once its gets fermented, strain the liquid and the Kanji is ready to be served and the pieces of carrots and beetroot, that remain after straining the Kanji can be used for making pickle.
Also, Read Best Nutrition Rich Antioxidant Juice
Meghna Nath
This Recipe Rate :
(0) Reviews