Masala Paneer Naan Recipe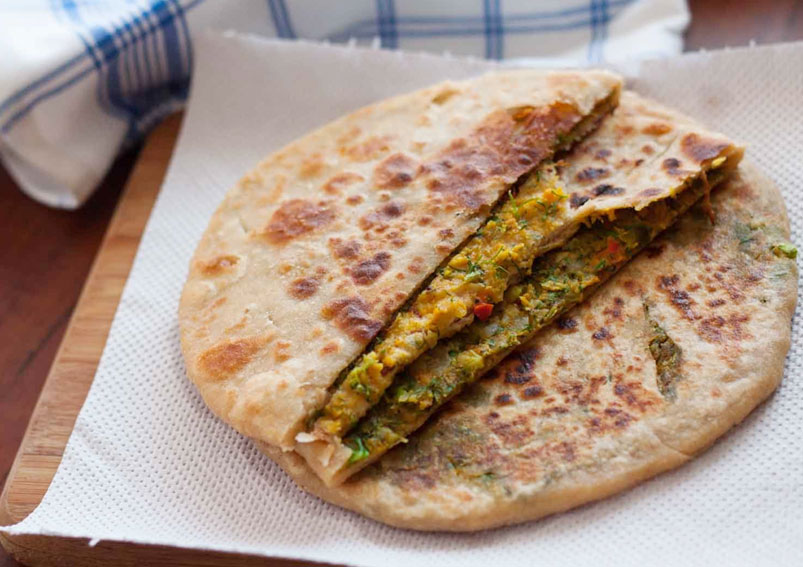 Masala Paneer Naan is an easy stuffed naan recipe that can be made at home. Naan is a popular Indian flat bread made with plain flour ( maida) and stuffed with spicy paneer filling that can be served with any side dish. Let's follow this recipe.
Ingredients
For The Dough
2 cupsPlain flour (maida)
1 tspSugar
1 tspDry yeast
1 tbspCurd (dahi)
1 tbspGhee
1/2Salt
To Be Mixed Into A Stuffing
2 cupsGrated paneer (cottage cheese)
1-1/2 tbspFinely chopped green chilies
1/4 cupFinely chopped coriander (dhania)
Saltto taste
Other Ingredients
Plain flour(maida) for rolling
Butterfor coating\brushing
Directions
Sieve the flour very well and keep it aside
In a bowl add sugar, yeast and ¾ cup of warm water and stir it until the yeast dissolves. Cover with lid and wait for 5 to 7 minutes until the mixture is full of froth.
Add this liquid along with the curd, ghee, and salt to the flour and make a soft dough by adding some more warm water.
Knead the dough for at least 6 to 7 minutes and wrap the dough with a wet cloth for 30 minutes.
Knead again for 1 minute and divide the dough into equal small balls, flatten it and roll into 50 mm. (2") diameter circle.
Put 1 tbsp of the filling in the center, close the edges and roll it again into a 100 mm. (4") diameter circle..
Place naan on a hot tawa and cook them only on 1 side till they are light brown in color.
Then place them on an open flame and cook from both the sides, till they are golden brown in color.
Top with butter and serve hot with any side dish.
Meghna Nath
This Recipe Rate :
(0) Reviews