Tasty Lauki Ka Paratha Recipe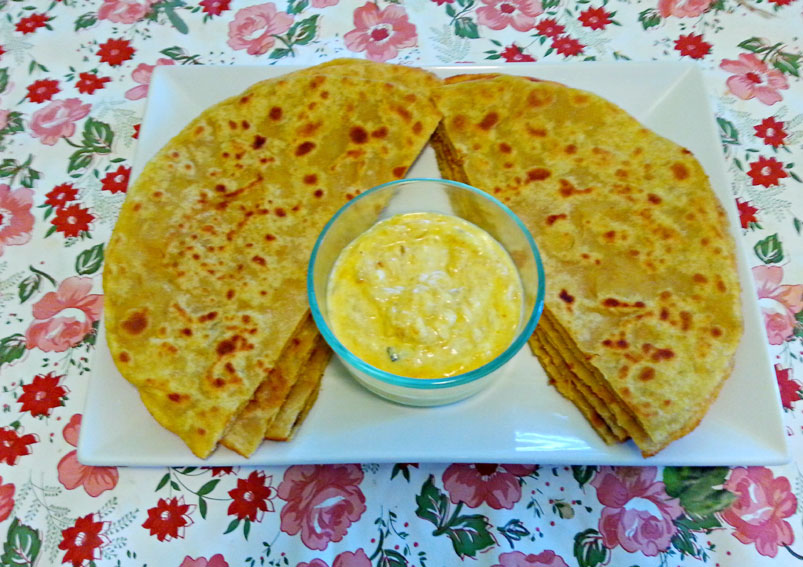 Lauki( Bottle Gourd) Ka Paratha is an interesting way cook bottle gourd( lauki). This paratha recipe is very simple and you can make this in no time. Serve this paratha along with raita for breakfast or for light dinner. Let's follow this recipe.
Ingredients
For The Stuffing
1 tbspoil
2 tbspfennel seeds (saunf)
3/4 cupgrated bottle gourd (doodhi / lauki)
saltto taste
1/2 tspdried mango powder (amchur)
1/2 tspgaram masala
1/4 tspchili powder
1slit green chili, chopped
1/2 tspcoriander (dhania) powder
1 tbspchopped coriander (dhania)
For The Dough
1/2 cupwhole wheat flour (gehun ka atta)
saltto taste
Other Ingredients
whole wheatflour (gehun ka atta) for rolling
oilfor cooking
Directions
For the stuffing
Heat oil in a kadhai add fennel seeds and saute for 30 seconds.
Add chili powder, garam masala, green chilies, coriander powder, mix it well and cook for 1 minute.
Add grated bottle gourd and salt, mix it well and cook for 3-4 minutes or till the bottle gourd turns brown in color.
Add mango powder and coriander leaves and mix it well.
Remove from the flame and keep it aside to cool.
For the dough
In a bowl addwheat flour and salt and mix it well and knead into a soft dough by using enough water and keep it aside.
How to proceed
Roll out the dough into a circle of 4" diameter and put the stuffing at the center and bring the edges together at the center to seal tightly.
Roll out again into a circle of 6" diameter by dusting a little whole wheat flour.
Heat a tawa and fry each paratha by using a little oil and fry till golden brown spots appear from both the sides.
Serve hot with curd and pickle.
Meghna Nath
This Recipe Rate :
(0) Reviews