Soya Chunks and Beetroot Biryani Recipe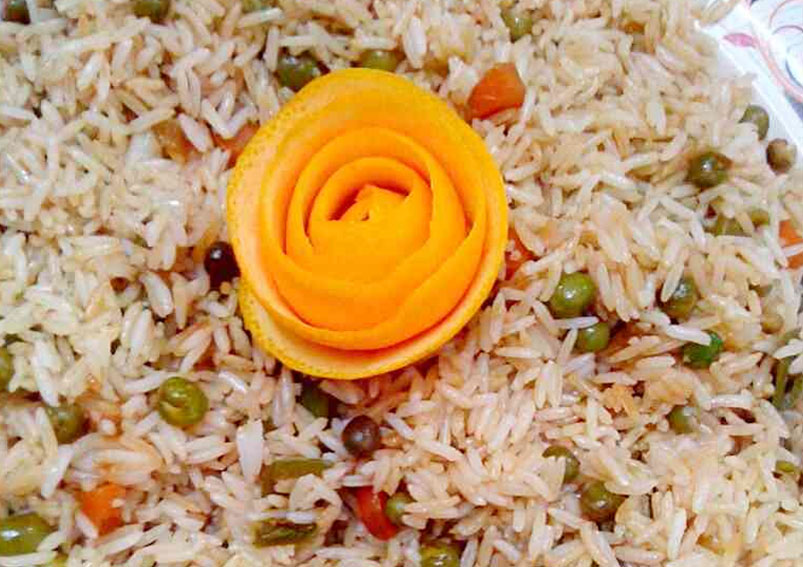 Soya Chunks and Beetroot Biryani is one of the protein enriched easy biryani that one can make at home very easily. It is not just easy and simple but also healthy than any other non-vegetarian biryani. Let's follow this recipe.
Ingredients
1-1/2 cupsBasmati rice, soaked in enough water for 20 minutes
1Beetroot, finely chopped
15-20

Soya

Chunks, soaked in warm water for 20 minutes
1Onion, finely chopped
1Tomato, finely chopped
1Green Chili, chopped
1/2 tablespoonGinger garlic paste
1 cupMint Leaves (Pudina)
1 cupCoriander leaves (Dhania), finely chopped
1 teaspoonTurmeric powder (Haldi)
1/2 teaspoonRed chili powder
2 teaspoonsCoriander Powder
Saltto taste
1 teaspoonLemon juice
2 cupmilk
2 tablespoonCooking oil
4Cloves
1/4Cinnamon Stick
1Bay leaf (tej patta)
1 teaspoonShahi jeera
Directions
In a bowl soak the soya chunks in warm water for 20 minutes and after 20 min squeeze water from the soya chunks and chop them and keep it aside.
In a blender add mint, coriander leaves, and 2 tablespoon water and blend into a smooth paste and keep it aside.
Heat 2 tablespoon oil in a wok and add cloves, cinnamon, bay leaf and shahi jeera and saute them for about 30 seconds and after 30 seconds, add chopped onions and green chilies.
Cook for a minute till it turns golden brown and soft and add chopped tomatoes and mash the pulp.
Add chopped beetroot and soya chunks and stir it well.
Add blended mint-coriander paste, turmeric powder, red chili powder, and coriander powder and stir well everything and add salt and add 1 cup water, cover it with a lid and cook it for 10 minutes.
Add coconut milk and 1/2 cup water and once it starts boiling, add rice, lemon juice and salt and mix it well and cover with a lid and cook it on low-medium flame till the rice is cooked properly.
Serve this biryani with any other raita of your choice.
Meghna Nath
This Recipe Rate :
(0) Reviews