Dussehra Special Mixed Lentil Garelu Vada Recipe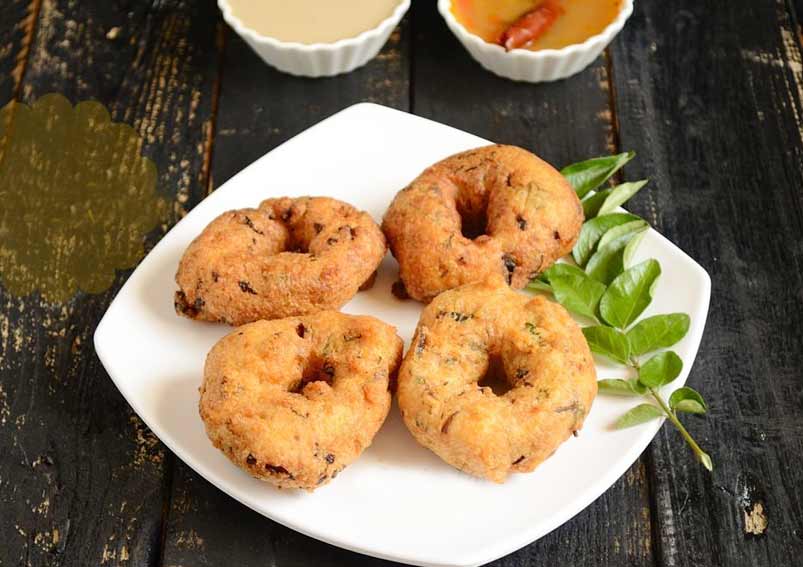 Mixed Lentil Garelu (Vada) is a deep-fried savory dish of South Indian cuisine. This dish is made with various lentils (dal),rice flour, and flavored with various seasonings. This vada is crispy from outside and soft from inside. These vadas are so tasty and tempting and also very easy to prepare. The vada is best paired with sambar and coconut chutney.
Ingredients
1/2 cupChana dal (Bengal Gram Dal)
1/2 cupYellow Moong Dal (Split)
1/2 cupWhite Urad Dal (Split)
1/2 cupRice flour
3/4 cupWheat flour
8 to 9Green Chilies
5 to 6sprig Coriander leaves (Dhania)
2sprig Curry leaves
2 inchGinger
Wateras required
Saltto taste
Cooking oilfor deep frying
Directions
In a bowl, add chana dal, moong dal, urad dal, and also enough water and soak it for 5 hours and then drain water from it and keep it aside
In a blender, add all the dals and also add ginger, green chilies, and enough water and blend to a smooth paste.
Transfer the blended batter into a bowl, and add rice flour, wheat flour, enough water, coriander leaves, curry leaves, and salt and mix it nicely and make a thick a batter.
Wet your hand with little water and place a portion of the mixture on your palm and flatten it slightly.
Make a hole in the center of the vada with your index finger and heat the oil in a deep non-stick pan, upturn your hand and drop the vada into the oil.
Deep-fry the vada on a medium flame till they turn golden brown in color from both the sides.
Drain the vadas on an absorbent paper and serve it with coconut chutney.
Meghna Nath
This Recipe Rate :
(0) Reviews