Chana Dal Paratha Recipe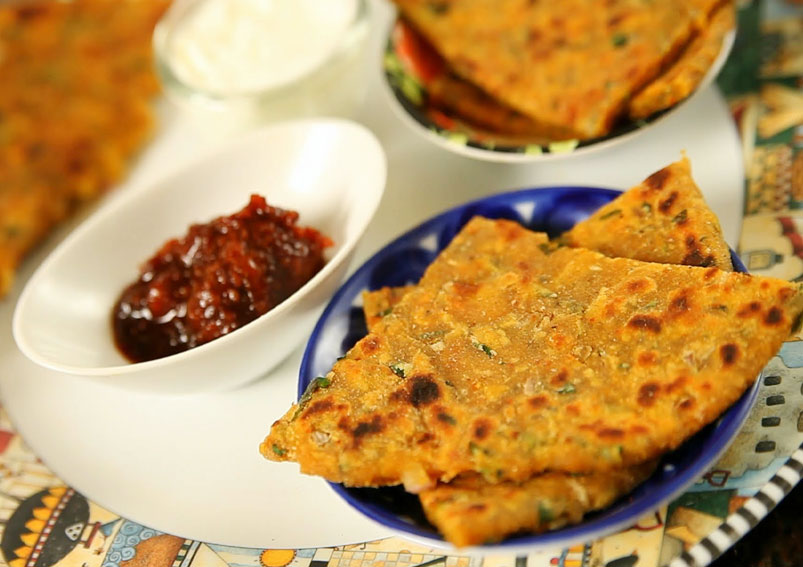 Chana Dal Paratha is an Indian flat stuffed bread. This is a nutritious paratha loaded with protein and carbohydrates. It is very easy to prepare and very tasty. Here is a delicious recipe that you can prepare in few minutes.
Ingredients
For The Dough
1 1/2 cupswhole wheat flour (gehun ka atta)
saltto taste
For The Stuffing
3/4 cupchana dal (split Bengal gram)
1/2 cupfinely chopped onions
1/4 cupfinely chopped coriander (dhania)
1 tspgaram masala
1 tspdried mango powder (amchur)
1 tspgreen chili paste
1 tspsugar
saltto taste
Other Ingredients
whole wheatflour (gehun ka atta) for rolling
oilfor cooking
Directions
For the dough
In a bowl add wheat flour and salt and knead into a soft dough using enough water and
Divide the dough into equal portions and keep it aside.
For the stuffing
Wash and soak the chana dal in enough water in a deep bowl for 1 hour and drain the water from the chana dal.
Boil enough water in a deep non-stick pan, add the chana dal and salt and mix it well and cook on a medium flame for 20 minutes or till the dal is cooked.
Strain the cooked dal by using a strainer and keep it aside to cool slightly and once cooled, blend it in a mixer to a coarse mixture.
Transfer the mixture into a bowl, add onions, chopped coriander, garam masala, dried mango powder, green chili paste, salt, and sugar and mix it nicely.
Divide the stuffing into equal portions and keep it aside
How to proceed
Roll a portion of the dough into a 100 mm. (4") diameter circle by using a little whole wheat flour for rolling.
Place a portion of the stuffing in the center of the circle and bring together all the sides in the center and seal it tightly.
Roll again into a circle of 125 mm. (5") diameter circle by using a little whole wheat flour for rolling.
Heat a non-stick tawa (griddle) and cook the paratha on a medium flame, by using a little oil, fry till golden brown spots appear on both the sides.
Serve this hot paratha with a pickle.
Tips
At step 3 for the stuffing, cook the chana dal till it is just tender and not overcooked or mushy.
Meghna Nath
This Recipe Rate :
(0) Reviews