Tasty Vegetable Jalfrezi Recipe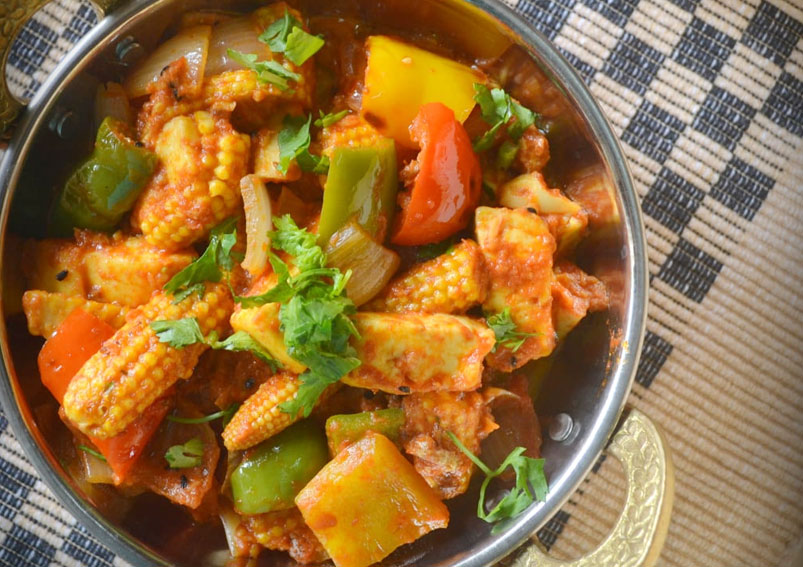 Vegetable Jalfrezi is a popular Indian recipe. This semi-dry side dish is a blend of many vegetables and spices. This rich in flavor dish is the perfect dish for the special occasion. Let's follow this tasty recipe.
Ingredients
1 1/2 cups

boiled mixed vegetables

(french beans, carrots, and green peas)
1 tbspoil
1/4 cupfinely chopped green chilies
1 1/2 tspgrated ginger (adrak)
1/2 tspfinely chopped onions
1/2 cupfinely chopped tomatoes
1 1/4 cupsfinely chopped coriander (dhania)
1 tbsptomato ketchup
5 tbspfinely chopped spring onion greens
4 tbspchili powder
1 tspsugar
saltto taste
Directions
Heat the ghee in a deep kadhai and add green chilies, ginger, and onions and saute on a medium flame for 1 minute.
Add chopped tomatoes, tomato ketchup, and coriander and cook for 3 to 4 minutes and stir occasionally.
Add all the boiled vegetables, spring onions, chili powder, sugar, salt, and 2 tbsp of water and cook on a medium flame for 2 to 3 minutes and stir occasionally.
Serve it hot with ajwain paratha.
The vegetables are rich in fiber, antioxidants, calcium, iron, zinc and vitamin C
Meghna Nath
This Recipe Rate :
(0) Reviews