Easy Rajma and Paneer Sandwich Recipe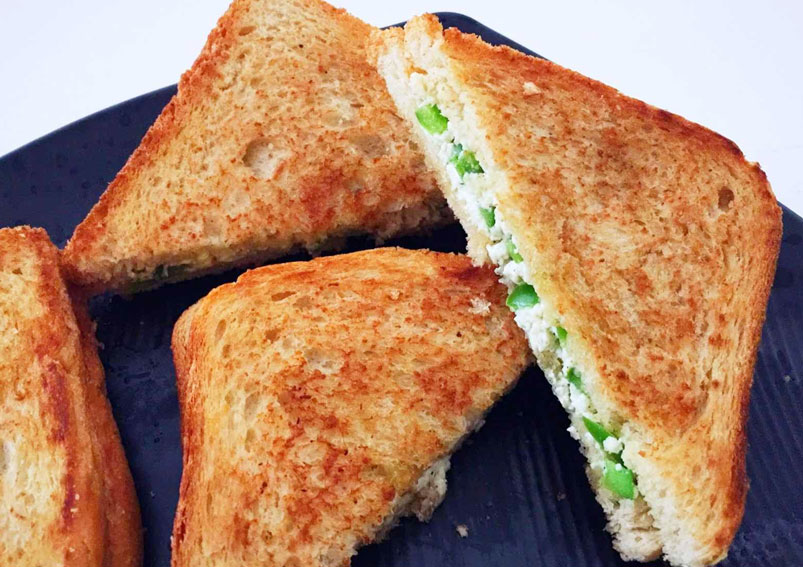 Rajma and Paneer Sandwich are a very easy, nutrition sandwich which is rich in protein. This is a wholesome breakfast recipe. This sandwich is very healthy and tasty. Today let us learn how to make Rajma and paneer Sandwich by following this recipe.
Ingredients
6whole wheat bread slices
3iceberg lettuce
1 1/2 tspbutter
3 tsptomato ketchup
For The Filling
1 cupsoaked and boiled rajma (kidney beans)
2 tbspgrated paneer (cottage cheese)
2 tspoil
2 tbspfinely chopped onions
1 tspfinely chopped green chilies
2 tbspfinely chopped tomatoes
2 tbspfinely chopped capsicum
1 tbspfinely chopped coriander (dhania)
1/4 tspchili powder
saltto taste
Directions
For the filling
Heat the oil in a broad non-stick pan, add onions and green chilies and saute on a medium flame for few second.
Add tomatoes and capsicum and saute on a medium flame for 1 minute.
Add the boiled rajma, grated paneer, coriander leaves, chili powder and salt, mix it well and cook on a medium flame for 1 to 2 minutes and divide the filling into equal portions and keep it aside.
How to proceed
Apply ¼ tsp of butter on each of the bread slices and place bread slices on a dry, flat surface with the buttered side facing up and place 1 iceberg lettuce on it.
Spread 1 portion of the prepared filling and ½ tsp of tomato ketchup over the bread and cover it with another bread slice with the buttered side facing downwards.
Serve it with a glass of juice.
Nutrient values per sandwich
Energy 254 calories
Protein 9.2 gm
Carbohydrates 37.9 gm
Fat 5.2 gm
Calcium 115.5 mg
Meghna Nath
This Recipe Rate :
(0) Reviews