Shahi Kaju Aloo Recipe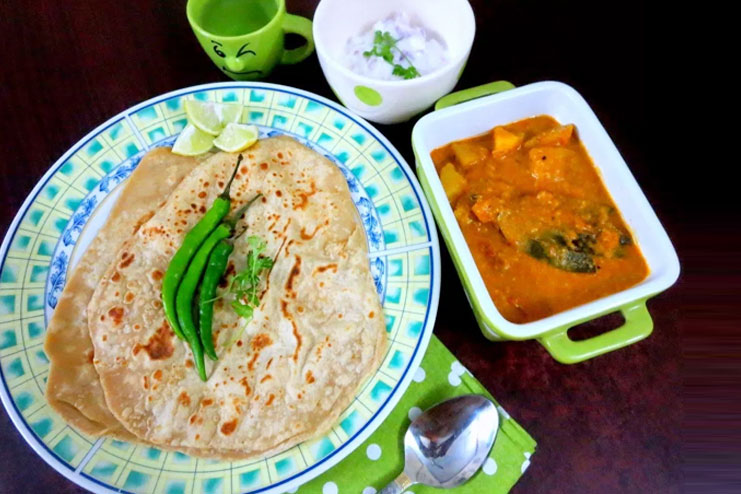 Shahi Kaju Aloo is a delicious North Indian curry made with kaju (cashew nut) and aloo(potato). This curry is quite rich, kaju (cashew nut) is a good for health as it is packed with vitamins, minerals, and antioxidants. This dish is perfect for any special occasion.
Ingredients
300 gmPotato
15

Cashew nuts

soaked in 1/4 cup water
1 tbspGinger chopped
1 tbspGarlic chopped
1/2 tspBlack cumin seeds
1Bay leaf
2, choppedOnion
1/2 tspTurmeric powder
1/2 tspGaram masala
2 tbspCoriander leaves chopped
1/2 cupBeaten yogurt
1/4 cupMilk
Oilfor frying
Saltto taste
Directions
Wash the potatoes and dice them into small pieces and heat a pan with oil and fry the potatoes until golden brown in color and drain on a tissue paper and keep it aside.
In a blender add cashew nuts, ginger, and garlic, and blend into a fine paste
Heat oil in a pan and add black cumin seeds and bay leaf and now add the onions fry until they become translucent.
Add the turmeric powder and garam masala and stir it well and pour in the cashew paste and cook for 2 minutes.
Pour yogurt, milk, and water and allow to boil and as the gravy begins to thicken, add the fried potatoes and cook for 4 minutes on a low flame.
Serve hot with naan or parathas.
Cashew nuts are a good source of vitamins, minerals, phosphorus, zinc, magnesium, iron, and selenium.
Meghna Nath
This Recipe Rate :
(0) Reviews