Refreshing Cutting Chai/Tea Recipe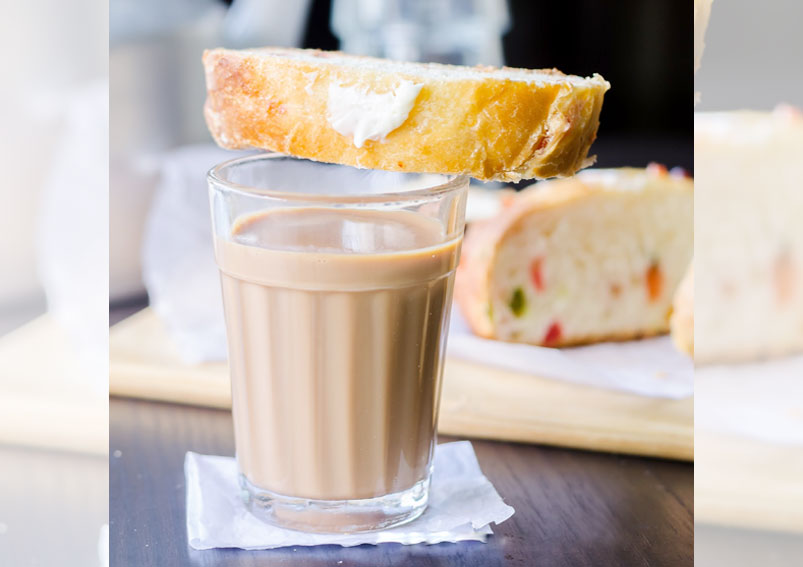 Cutting Chai is basically originated from Mumbai. No time or occasion-specific for tea. It is the most humble beverage and has the capacity to be very ritualistic. It is enjoyed equally in every occasion..
Ingredients
1 cupwater
3 podspods

cardamom

/ Eliachi
1 inchginger / adrak, grated
2 tsptea powder
2 tspsugar
¾ fullcream milk
Directions
In a vessel pour 1 cup of water and add 3 pods of cardamom( open the pods) and add to the water for more flavors and also grated 1-inch of ginger.
Add 2 tsp of tea powder and you can increase the amount of tea powder, if you want the tea to be stronger and add sugar.
Now boil for 5 minutes on medium flame and add ¾ cup of milk.
Boil for 2 minutes, make sure to stir in between and switch off the flame and strain the chai separating the tea leaves and pour into glass.
Serve the cutting chai along with biscuits.
Notes
Before adding milk, boil the tea leaves in water for more flavors.
Also, adjust the amount the sugar depending on your taste.
Most importantly, chai always taste great when prepared freshly and served immediately.
UseAssam tea as this tea leaves has more rich aroma and flavors and by adding this tea leaves will enhance the flavor of your tea.
Meghna Nath
This Recipe Rate :
(0) Reviews