Tasty Paneer Pulao Recipe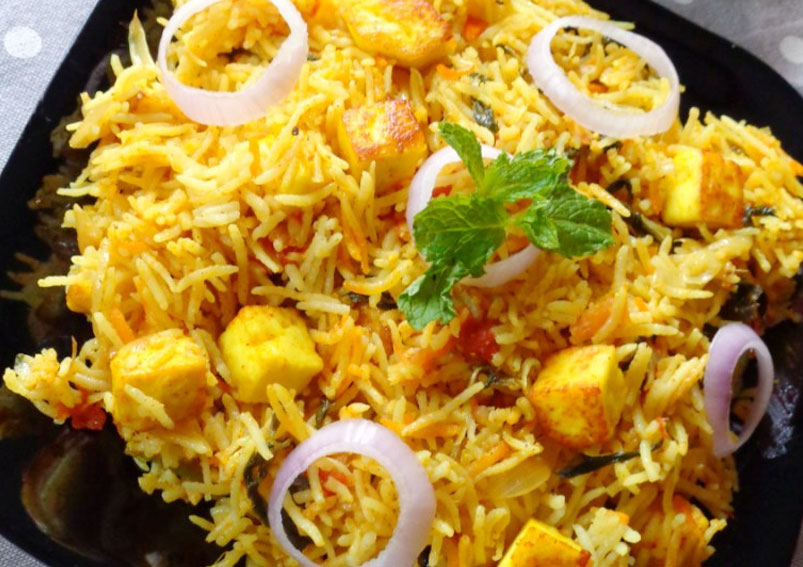 Paneer pulao is a simple, nutritious and delicious rice recipe that is quick to prepare and is packed with spices. Pulao is an all time and favorite lunch recipe. It is easy, aromatic and delicious. Let's follow this tasty recipe.
Ingredients
1 tspoil
2 tspbutter
1/2 cupthinly sliced onions
1 tbspchopped ginger (adrak)
1 tbspchopped garlic (lehsun)
1 tbspgreen chili paste
3 tbsptomato puree
1 cuprice (chawal), soaked for 1 hour and drained
1 cuppaneer (cottage cheese) cubes
saltto taste
a pinchof sugar
1/2 tspgaram masala
1 tbspcurd (dahi)
For The Garnish
2 tbspchopped coriander (dhania)
Directions
Heat the oil and butter in a pressure cooker and add the onions and saute on a medium flame for 2 to 3 minutes or cook till the onions turn translucent.
Add ginger, garlic, and green chili paste and saute on a medium flame for another 1 minute.
Add the tomato puree and sauteit for 1 minute and add the soaked rice and saute for 1 minute.
Add the paneer cubes and saute for 1 minute and add 2 cups of hot water, salt, sugar, garam masala, and curd, mix it well and pressure cook for 25 min.
Allow the steam to escape before opening the lid.
Garnish with coriander leaves and serve it with tomato raita.
Nutrient values per serving
Energy272 cal
Protein7.7 g
Carbohydrates35.4 g
Fiber1.9 g
Fat11 g
Cholesterol0 mg
Vitamin A230.9 mcg
Vitamin B1-0.3 mg
Vitamin B2-0.3 mg
Vitamin B30.5 mg
Vitamin C4.9 mg
Folic Acid7 mcg
Calcium186.2 mg
Iron0.4 mg
Magnesium0 mg
Phosphorus0 mg
Sodium14.2 mg
Potassium26.6 mg
Zinc0.6 mg
Meghna Nath
This Recipe Rate :
(0) Reviews