Healthy Mini Jowar Uttapam Recipe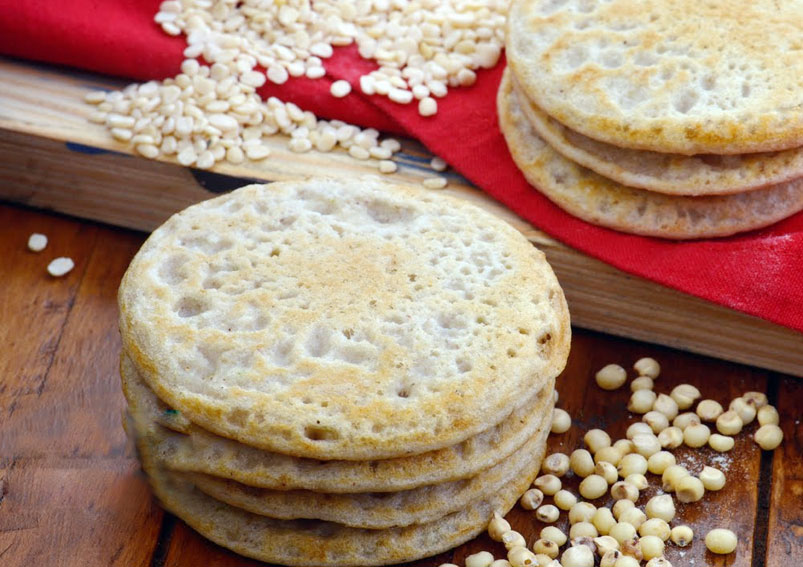 Jowar (White Millet) has a lot of health benefits including lowering cholesterol and even helps in weight loss. A healthy alternative to our regular uttapam. So try to incorporate millet in our diet. Let's learn how to make Mini Jowar Uttapam recipe.
Ingredients
1 cupjowar (white millet), soaked overnight and drained
1/4 cupurad dal (split black lentils), soaked overnight and drained
1 cupsoya milk
saltto taste
2 tspginger-green chili paste
3-1/2 tspoil for greasing and cooking
Directions
In a bowl soak jowar in enough water for overnight and next day in a blender add jowar, urad dal, and soya milk and blend to a smooth paste.
Transfer the paste into a bowl, add ¼ cup of water and mix it well to make a batter of pouring consistency.
Add the salt and ginger-green chili paste and mix it well and heat a mini uttapam pan and grease it using ½ tsp of oil.
Pour 2 small spoonful of the batter in each of the uttapam molds to make a 75 mm. (3") diameter round.
Cook the uttapam, using 1 tsp of oil and cook till they turn golden brown in color from both the sides.
Serve this hot uttapam with coconut chutney.
Meghna Nath
This Recipe Rate :
(0) Reviews