Easy Methi Dal Recipe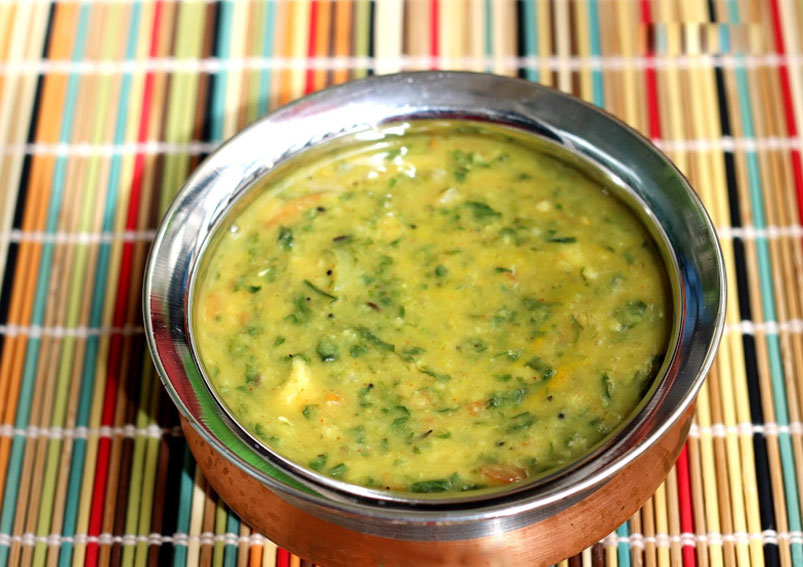 Methi dal is a nutritious and protein rich lentil recipe which is not only easy to prepare and also the diabetic friendly. Follow this easy recipe and include this dal in your daily diet.
Ingredients
1 cuptoovar (arhar) dal
1/2 cupchopped fenugreek (methi) leaves
1 tspcumin seeds (jeera)
1/4 cupchopped onions
1 tspchopped garlic (lehsun
2 tspchopped ginger (adrak)
1 tspgreen chilies, chopped
1/4 cupchopped tomatoes
1/2 tspchili powder
a pinchof turmeric powder (haldi)
1 tsplemon juice
1 tspoil
saltto taste
Directions
Wash and soak the dal in water for an hour and drain the water from the dal and discard the water.
In a pressure cooker add pour 2 cups water and dal and pressure cooker for 10 to 15 minutes and cook till the dal is cooked and keep it aside.
Heat oil in a non-stick pan, add the cumin seeds and allow them to crackle and add the onions, garlic, ginger and green chilies, and cook till the onions are translucent.
Add the chopped fenugreek leaves and cook on a high flame for 1 minute.
Add the tomatoes, chili powder, and turmeric powder and cook for 2 to 3 minutes.
Add the cooked dal and salt and cook on a low flame for 4 to 5 minutes.
Add the lemon juice, mix it nicly and serve it hot.
Nutrient values per serving
Energy 160 k cal
Fibre 0.9 gm
Amount 70 gm
Carbohydrate 25.6 gm
Fat 2.1 gm
Protein 9.7 gm
Check More Dal Recipes
Meghna Nath
This Recipe Rate :
(0) Reviews