Easy Chicken Chaap Recipe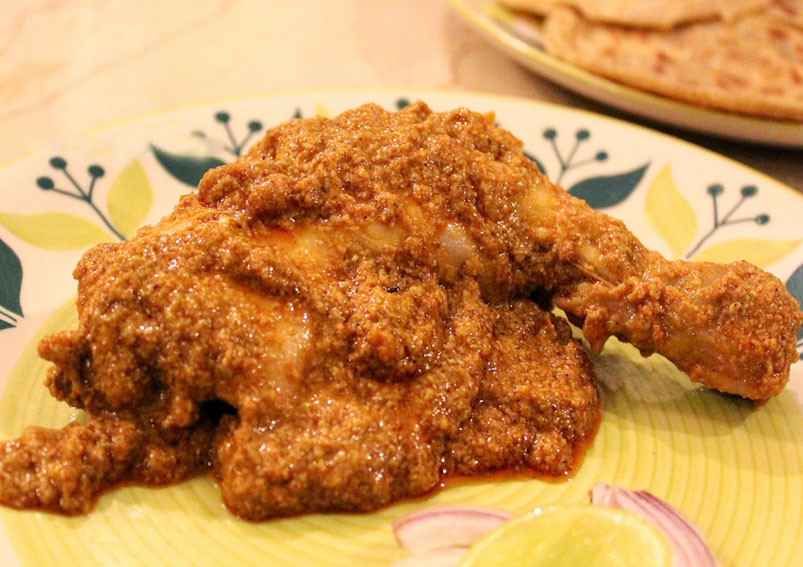 Chicken Chaap is a very popular dish from Kolkata and part of Awadhi cuisine. It easy to cook, blended with spices. It is best accompanied with Indian naan, paratha, pulao and even biriyani. Try this recipe.
Ingredients
500gChicken (preferably leg pieces)
½ cupHung curd
1 tspGrated ginger
1½ tspCrushed garlic
1 tspMace powder
1 tspBlack pepper powder
1 tspRed chili powder
8-10Saffron strand, rubbed and dissolved in 2-3 tbsp of warm milk
1-2 tspLime juice
¼ cupPoppy seed
Saltto taste
1 tspSugar
¼ cupOil
Directions
Wash and clean the chicken pieces and pat it dry with a kitchen cloth.
Soak poppy seed in ? cup warm water for 30 min and make a fine paste of it.
In a mixing bowl beat curd, chili powder, pepper powder, garlic, ginger, mace powder, oil, poppy seed paste and sugar and make a smooth paste.
Rub the chicken pieces well in curd mixture and allow it to rest for at least 1 hour or 4 hr – 6 hr in refrigerator.
Take a non-stick wok and heat oil in it on medium flame.
Now shake off all marinate and add chicken pieces into the hot oil and fry them on medium heat.
Add sugar along with the marinate and give it a good stir and continue cooking uncovered until oil floats on top.
Add poppy seed paste along with the saffron infused milk and mix well.
Continue to cook until chicken is done and oil separates and if your gravy has dried up before chicken is cooked and then sprinkle some warm water in between.
Serve hot with any Biryani and salad or with any kind of Paratha.
Also, Read Bengali Mutton Curry Recipe
Meghna Nath
This Recipe Rate :
(0) Reviews