Creamy Kaju Curry Recipe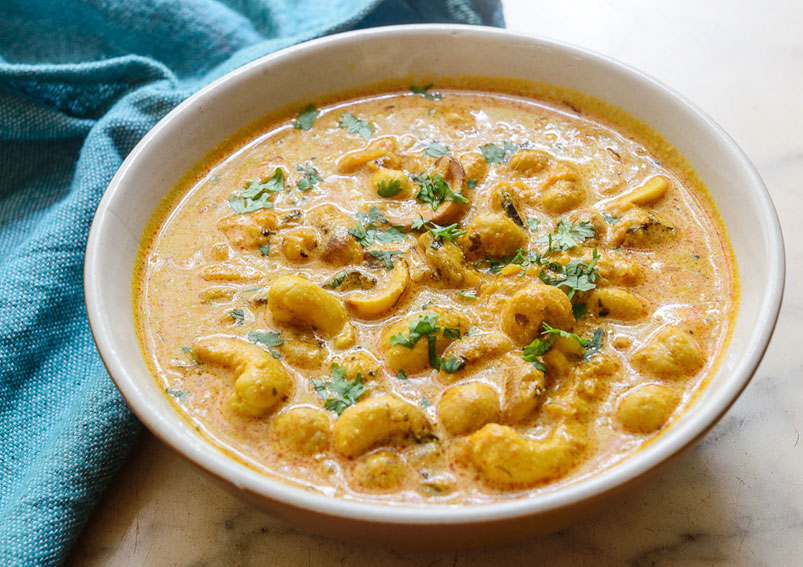 Kaju Curry is roasted cashew nuts cooked in a spicy based rich and creamy gravy. It is a delicious and easy to prepare. This dish is perfect for special occasions. Let's follow this recipe.
Ingredients
1/2 cupghee
2 tspcumin seeds
1 cupgrated onions
15-20cashew nuts soaked for 1/2 hour and ground to a paste
2 Tbsppoppy seeds soaked 1/2 hour and ground to a paste
1/4 cupmilk
2 Tbspnariyal ka burada (desiccated coconut)
1/2 tspturmeric
1/2 tspchili powder
¼ cupgaram masala
1 Tbsppowdered coriander seeds
1 Tbspsalt
2-3green chilies slit
1/4 cupkhoya mashed into a paste with water
1 1/2 cupsmixed vegetables of your choice-blanched
1/4 cupthick cream-to garnish
2 Tbspchopped coriander leaves-for garnish
Directions
Heat ghee in a heavy based pan and add cumin seeds.
When the seeds splutter, add onions and saute till the onion turns light brown in color.
Add cashew and poppy paste and saute till the fat separates.
Increase the flame and add the vegetables, and mix it well.
Add the turmeric, chili powder, garam masala, coriander powder, salt and green chilies, and fry it.
Add 1 1/2 cups water and khoya and cook it for 3-4 min.
Garnish with cream and coriander leaves.
Serve hot.
Also, Read Malai Kofta Recipe
Meghna Nath
This Recipe Rate :
(0) Reviews