Easy and Healthy Khatta Dhokla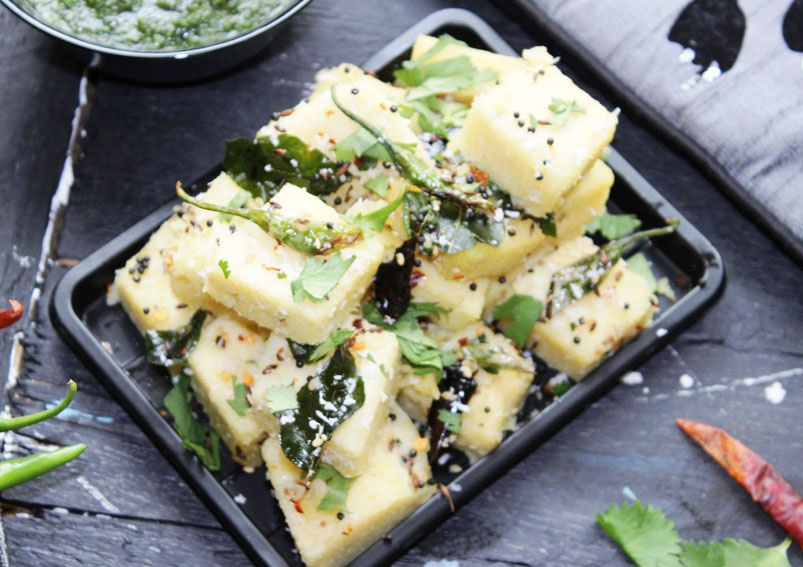 Khatta Dhokla or white Dhokla is one of the Gujarati snacks that is loved by all. This recipe of khatta dhokla is a fermented version. It is light, healthy and easy to make. It is best enjoyed when served with chutney.
Ingredients
2 cupskhatta dhokla flour ( see below the notes)
1/4 cupsour curd (katta dahi)
1 1/2 tspgreen chili paste
1 1/4 tspoil
saltto taste
3 tsp

fruit salt

1 1/2 tsproasted and coarsely ground black pepper
Directions
Add khatta dhokla flour, curd, green chili paste,1 tsp of oil, warm water (approx 2 1/4 cups) and salt in a bowl and mix it well.
Keep it aside to ferment for at least 8 to 10 hours and just before steaming, sprinkle the fruit salt and add 2 tsp of water to the batter and when the bubbles form, mix it gently.
Grease a 175 mm. (7") diameter thali with1/4 tsp of oil.
Pour 1/3 rd of the batter immediately into the greased thali and shake the thali clockwise to spread it to make an even layer.
Sprinkle 1/2 tsp of black pepper powder evenly over it and steam in a steamer for 7 to 8 minutes or till the dhoklas are cooked.
Cool slightly and cut into diamond shaped equal pieces.
Serve immediately with green chutney.
Notes
To make khatta dhokla flour, combine 1½ cups of rice and ½ cup of urad dal and grind it to make a flour from your nearest flour mill.
Fermentation time of rice and urad dal may vary depending on the weather conditions.
Add the fruit salt to the batter just before steaming and then mix lightly with your hands.
Also, Read Gujarati Special Palak Dhokla Recipe
Meghna Nath
This Recipe Rate :
(0) Reviews