Tasty Sweet Buns Recipe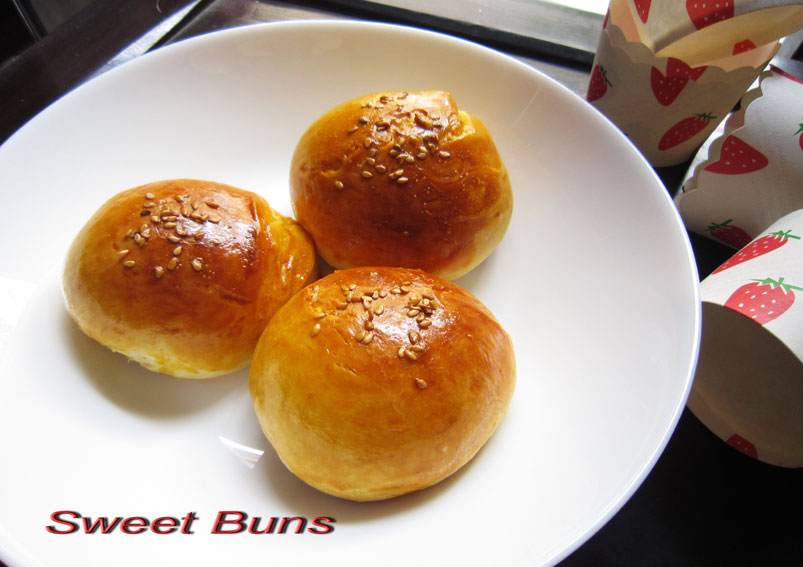 Discover the secret of preparing the perfect sweet buns which are stuffed with tutti frutti. These buns are excellent breakfast recipe, especially for children. Let's follow this sweet recipe.
Ingredients
1/4 cuptutti frutti
1 tbspwarm milk
1/2 tbspinstant dry yeast
1 tbspsugar
1 tbspoil
2 tspbutter
1 1/2 cupsplain flour (maida)
1/2 tspbaking powder
3 tbsppowdered sugar
3/4 tspsalt
milkfor brushing
butter
Directions
Add warm milk, yeast, sugar and 1 tbsp of warm water in a bowl, mix well and cover with a lid and keep it aside for 10 minutes.
Combine the oil and butter in a bowl, mix well and keep it aside.
Combine the plain flour, baking powder, powdered sugar and salt in a deep bowl and mix it well.
Add the yeast mixture and knead into a soft dough using approx. 1/2 cup of water.
Add the oil-butter mixture and knead again for 5 to 8 minutes.
Cover with a damp muslin cloth and keep in a warm place for 1 hour.
Inflate the dough, add the tutti frutti and knead very well.
Divide the dough into 6 equal portions and roll each portion into a ball and place it on the greased baking tray.
Cover them with a damp muslin cloth and keep in a warm place for 30 minutes or till they rise well.
Bake them in a pre-heated oven at 200°c(400°f) for 20 minutes.
Brush them with melted butter and serve warm.
Also, Read Peanut Butter Swirl Brownie Recipe
Meghna Nath
This Recipe Rate :
(0) Reviews