Corn and Chicken Fritters Recipe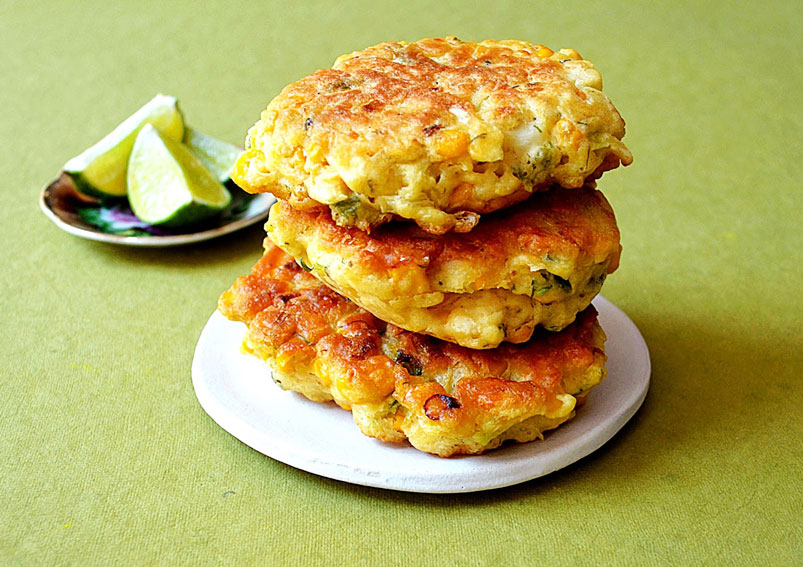 Source: honestcooking.com
Corn and Chicken Fritters is an amazing recipe prepared with chicken pieces and corn.These mouth-watering, tasty fritters are the hot favorite. This snack is perfect for any parties and is also perfect with a hot cup of tea.
Ingredients
1 cupChicken breasts
1/2 cupCorn Kernels
1Whole Egg, lightly beaten (in a bowl break an egg and lightly beat it)
1/2 cupMilk
2 tablespoonsButter
1/2 teaspoonSalt
1 teaspoonRed chili powder
1 teaspoonBlack pepper powder
1 cupPurpose Flour (Maida)
1 teaspoonBaking powder
1/2 cupWater
Cooking oilfor deep frying
Directions
Wash the chicken breasts in water nicely and chop them into small pieces.
In a pan, add the chopped chicken pieces and a pinch of salt and add 2 to 3 tablespoons of water and cook for few minutes until the chicken turns white and soft.
Switch off the flame and drain the water from the chicken and gently mash them with your hands.
In a bowl, add flour, cooked chicken pieces, corn, and beaten egg and mix them together with a spatula.
Add butter, milk, spice powders, salt and mix them nicely and in a kadhai, heat oil for frying fritters.
Ensure that the oil is right consistency by dropping a small ball of the flour and it should rise steadily.
Once the oil is hot, take a small ball of the mixture and gently drop them into the oil and fry the fritters on medium flame and flip occasionally until they turn golden in color.
Drain the fritters on a tissue paper and serve it hot with any sauce of your choice.
Meghna Nath
This Recipe Rate :
(0) Reviews