Healthy Multigrain Roti Recipe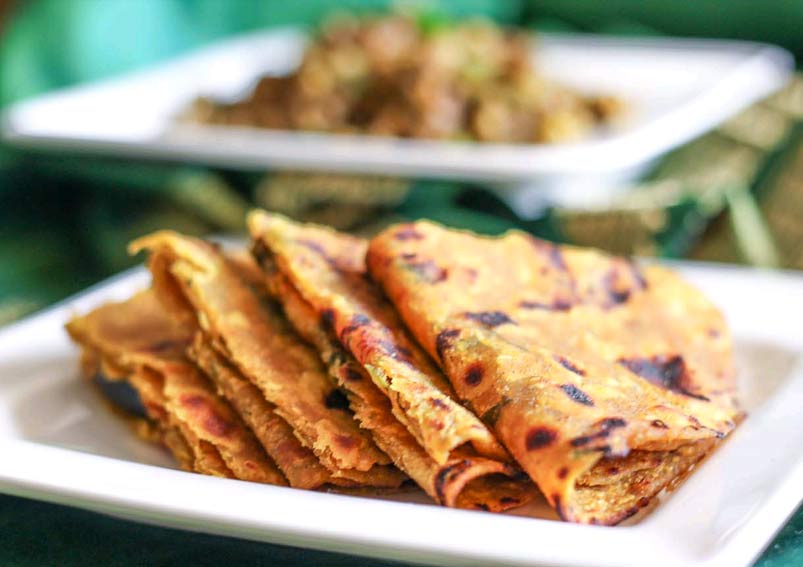 Want to try some healthy and tasty roti for breakfast? Then try this Multigrain Roti which is low in fat, high fiber content, and also low in calories. This roti is perfect for people who are trying to lose weight and also perfect for kids.
Ingredients
1/4 cupJowar (white millet) flour
1/4 cupBajra (black millet) flour
1/4 cupWhole wheat flour (gehun ka atta)
2 tbspBesan (Bengal gram flour)
1/4 cupRagi (nachni / red millet) flour
1/4 cupFinely chopped onions
3 tbspFinely chopped coriander (dhania)
1/4 cupFinely chopped tomatoes
1 tspFinely chopped green chilies
1 tspChili powder
1/4 tspTurmeric powder (haldi)
saltTo taste
greasing Oil
Directions
In a bowl add jowar flour, bajra flour, wheat flour, besan, ragi flour, chopped onion, chopped coriander leaves, chopped tomatoes, green chilies, chili powder, turmeric powder, salt and water as required and knead into a soft dough.
Divide the dough into equal portions and keep it aside and place a plastic sheet on a clean flat surface and lightly grease it with oil.
Flatten a portion of the dough on the greased plastic and cover with another plastic sheet.
Lightly press on the plastic sheet evenly to make a 100 mm. (4") diameter round roti and lift the roti with the plastic sheets, peel off the top plastic sheet and invert the roti on a hot non-stick tawa (griddle) and finally peel off the other plastic sheet as well.
Cook it by using a little oil and cook till it is golden brown in color from both the sides.
Serve it hot with a bowl of fresh curd.
Nutrient values per roti
Energy 114 cal
Protein 2.1 g
Carbohydrates 14.2 g
Fiber 1.9 g
Fat 5.5 g
Cholesterol 0 mg
Vitamin A 183 mg
Vitamin B1 0.1 mg
Vitamin B2 0 mg
Vitamin B3 0.5 mg
Vitamin C 4.4 mg
Folic Acid 8.1 mg
Calcium 34.1 mg
Iron 1.1 mg
Magnesium 0 mg
Phosphorus 0 mg
Sodium 4.5 mg
Potassium 78.9 mg
Zinc 0.5 mg
Check More Low- Fat Recipes
By Meghna Nath
This Recipe Rate :
(0) Reviews