Carrot and Green Pea Paratha Recipe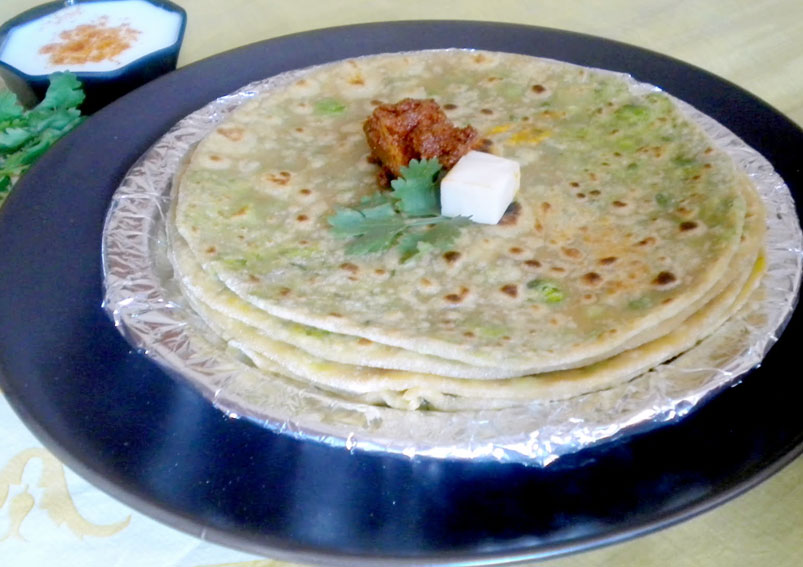 Source: palakkadcooking.blogspot.in
Carrot and Green Pea Paratha is made from wheat flour dough stuffed with carrot and pea filling. This paratha is healthy and delicious. This paratha is a whole meal by itself and ideal for morning breakfast or dinner.
Ingredients
For The Dough
1 1/2 cupswhole wheat flour (gehun ka atta)
saltto taste
whole wheatflour (gehun ka atta) for rolling

For The Green Pea and Carrot Stuffing

2 cupsboiled and coarsely crushed green peas
1 cupgrated carrot
1 tspoil
2 tspcumin seeds (jeera)
2 tspfinely chopped green chilies
1 tspchaat masala
2 tbspfinely chopped coriander (dhania)
saltto taste
1 1/2 tsplemon juice

Other Ingredients
Directions
For the dough
In a bowl add flour and salt and knead into a soft dough by using enough water and cover it with a muslin cloth and keep it aside.
For the green pea and carrot stuffing
Heat the oil in a broad non-stick pan, add cumin seeds and fry on a medium flame for a few seconds.
Add the carrot, green peas, green chilies, chaat masala, coriander and salt, mix it well and cook on a medium flame for 2 minutes and stir occasionally.
Add the lemon juice and mix it well and divide the stuffing into equal portions and keep it aside.
How to proceed
Divide the dough into equal portions and roll the dough into a 150 mm. (6") diameter circle using a little whole wheat.
Place a rolled circle on a flat, dry surface and spread a portion of the filling over it and
place the other dough circle over it and seal it tightly by using little water.
Heat a non-stick tawa (griddle) and cook the paratha, using ½ tsp of oil, till it turns golden brown in color from both the sides.
Serve it with tomato pickle.
Nutrient values per paratha
Energy 190 cal
Protein 5.6 g
Carbohydrates 31.8 g
Fiber 2.3 g
Fat 4.5 g
Cholesterol 0 mg
Vitamin A 569.6 mcg
Vitamin B1 0.2 mg
Vitamin B2 0.1 mg
Vitamin B3 1.9 mg
Vitamin C 4.6 mg
Folic Acid 18.3 mcg
Calcium 43.5 mg
Iron 2.3 mg
Magnesium 0 mg
Phosphorus 0 mg
Sodium 17.2 mg
Potassium 169.6 mg
Zinc 1 mg
Meghna Nath
This Recipe Rate :
(0) Reviews