Quick and Healthy Garlic Roti Recipe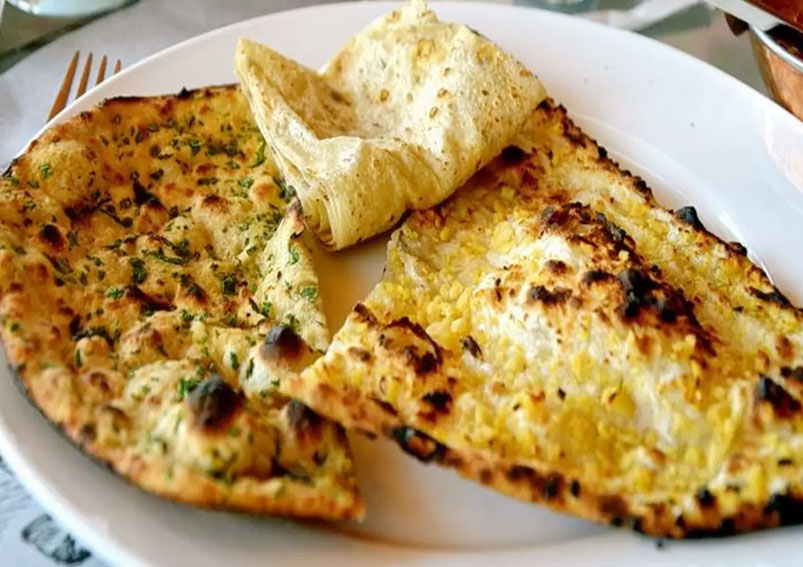 Source: thrillophilia.com
Tired of having regular roti? Then try this Garlic Roti which is a delicious Indian flat bread. Garlic is a rich source of vitamins, antioxidant, and minerals. This healthy and quick roti can be served with any side dish and is ideal for lunch or dinner.
Ingredients
2 tbspfinely chopped fresh green garlic (hara lehsun)
1/4 cupjowar (white millet) flour
1/4 cupbajra (black millet) flour
1/4 cupwhole wheat flour (gehun ka atta)
1/4 cupquick cooking rolled oats
1/2 tspchili powder
saltto taste
whole wheatflour (gehun ka atta) for rolling
1 tspoil for cooking
Directions
In a bowl add wheat flour, bajra flour, jowar flour, oats, chili powder, garlic, salt, and enough water and knead into a soft dough.
Cover the dough with a wet muslin cloth and keep it aside for 5 minutes.
After 5 min, divide the dough into equal portions.
Roll out each portion of the dough into a 125 mm. (5") diameter circle using a little whole wheat flour.
Heat a non-stick tawa (griddle) and cook each roti by using ¼ tsp of oil and cook till brown spots appear on both the sides.
Switch off the flame and transfer it to a serving plate and serve it with any side dish of your choice.
Nutrient values Per roti
Energy 96 calories
Protein 2.8 gm
Fat 2.1 gm
Fibre 1.6 gm
Iron 1.2 mg
Meghna Nath
This Recipe Rate :
(0) Reviews