Chocolaty Chocolate Coconut Ladoo Recipe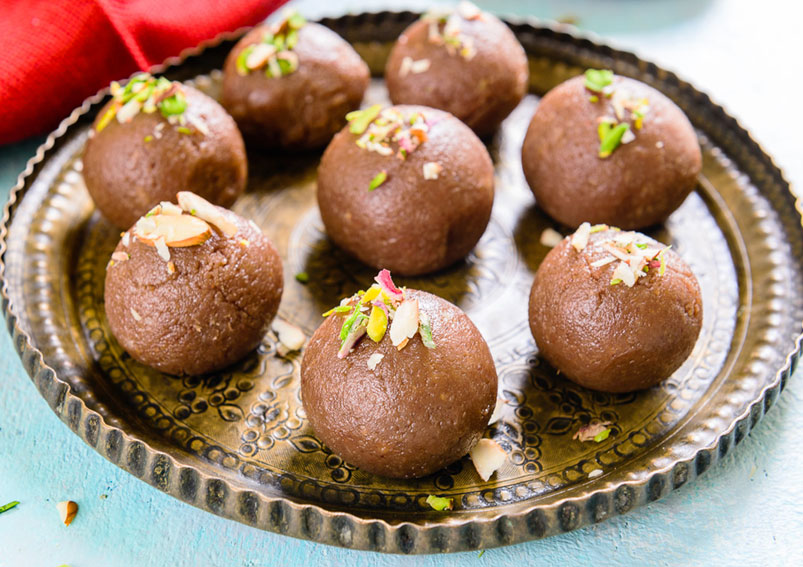 Source: cookwith.whiskaffair.com
Chocolate Coconut Ladoo is a traditional ladoo recipe with a chocolaty twist. This kid friendly, sweet is a tasty and healthy Ladoo recipe. This is a perfect recipe for any occasion and also it can be served as an evening snack. Let's learn how to make this ladoo recipe.
Ingredients
1 cup

Chocolate

grated
2 1/2 cupsDesiccated Coconut
1/2 cupAlmonds chopped
1/4 cupWalnuts crushed
1/4 cupPistachios coarsely ground
3 tablespoonsCondensed milk
Directions
In a bowl add 2 cups of desiccated coconut and then add chopped almonds, crushed walnuts, and pistachios, and mix it well and keep it aside.
Melt the chocolate in a microwave-safe bowl in a microwave oven on high power (100%) for one minute.
Remove from the microwave oven and whisk until smooth and add the melted chocolate to the desiccated coconut mixture.
Add the condensed milk and gently mix it and shape into small balls.
In a plate add 1-2 cup of desiccated coconut and roll the balls in the desiccated coconut and arrange on a plate.
You can store the ladoo in an airtight container in the refrigerator and enjoy it whenever you want to.
Nutrition Info
Calories: 2123
Carbohydrates: 92.9
Protein: 45.7
Fat: 174.4
Other: 28 gm
Meghna Nath
This Recipe Rate :
(0) Reviews