Authentic Maharashtrian Varan Bhaat Recipe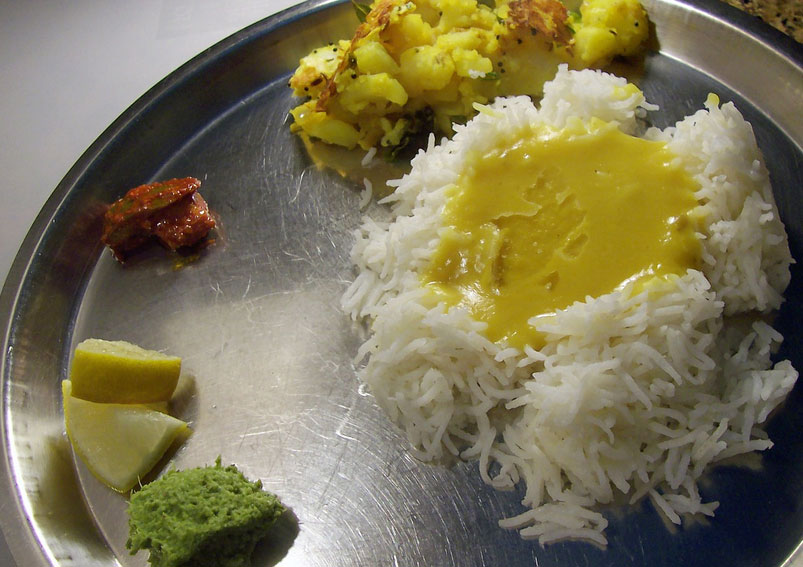 Source: www.flickr.com
Varan Bhaat is an authentic Maharashtrian dish. It is a combination of hot rice topped with ghee and lentil curry(dal). This traditionally prepared on festive season and it is a one pot meal. It is light, tasty, and also healthy. Try this traditional recipe at your home.
Ingredients
1 cuptoovar (arhar) dal , washed and drained
4 cupscooked rice
1/4 cupfinely chopped tomatoes
1/2 tspcumin seeds (jeera)
1/2 cupfinely chopped onions
1 tspoil
1 tsproughly chopped green chilies
saltto taste
1/2 tspturmeric powder (haldi)
1 tbspfinely chopped coriander (dhania)
4 tspghee
For The Garnish
2 tbspfinely chopped coriander (dhania)
For Cooking Rice
1 1/4 cupsraw rice (chawal)
1 tbspoil
saltto taste
Directions
For the Cooking the rice
Wash the rice thoroughly and soak in 3 cups of water for 30 minutes and drain the water from the rice and keep it aside.
Boil a vesselful of water, add 1 tbsp of oil and salt and add the rice to the boiling water and cook till the rice is cooked, stir once or twice in between and switch off the flame
Pour into a colander and let the water drain out and keep it aside.
For the dal
In a pressure cooker add toovar dal, tomatoes, cumin seeds, onions, oil, green chilies, salt and 2½ cups of water, mix well and pressure cook for 25 min.
Allow the steam to escape before opening the lid and add the turmeric powder and coriander and mix it well by using a hand blender.
Put 1 cup of cooked rice in a serving bowl, top it with ¼ Th of the dal mixture and top it with ghee evenly over it.
Garnish with coriander leaves and serve it hot.
Meghna Nath
This Recipe Rate :
(0) Reviews