Healthy Spinach Paratha Recipe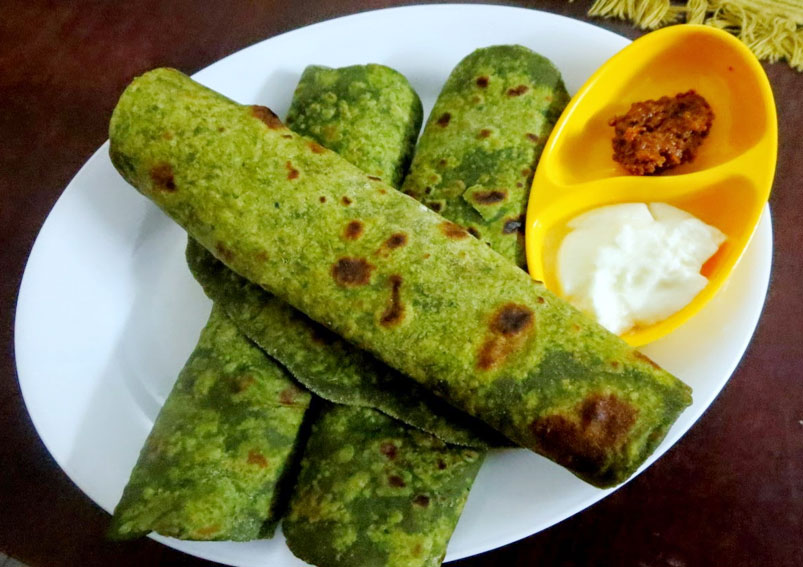 Source: www.cooking4allseasons.in
Spinach Paratha is a healthy and flavorful paratha recipe. This green colored Indian flat bread ideally served with any side dish for a full course breakfast, lunch or dinner. Try this delicious paratha at your home for your family members.
Ingredients
For the Dough:
1 cupwhole-wheat flour
1/2 cupwater (Add more water as needed)
Pinchof salt

Spinach Filling:

2 cupschopped spinach
Pinch ofof Asafoetida
1/4 teaspoonsalt
1/2 teaspooncumin seeds
1/4 teaspoonred chilly flakes
1/4 cupwhole-wheat flour for rolling
Oilto cook
Directions
For the Dough:
In a bowl add flour, salt, and water and make a soft dough and knead the dough for a few minutes on a lightly greased surface to make a soft, smooth and pliable dough.
Cover it with a damp cloth and keep it aside for ten minutes.
For Filling:
Heat the oil in a saucepan on medium-high flame and add the asafoetida and cumin seeds and after the cumin seeds crack, add the chopped spinach.
Cook the spinach until most of the water has evaporated and add the salt and pepper and mix it well and keep it aside.
For the strawberry
Divide the dough and spinach filling into equal parts and roll the dough into 3-inch circles.
Put the filling in the center and seal by pulling the edges together and make into a ball and heat the skillet on medium high.( Note: An iron skillet works best )and to see if the skillet is ready, sprinkle some water on it and if the water sizzles right away then the skillet is ready.
Press the ball lightly on dry whole-wheat flour from both sides and roll with a rolling pin to make 6-inch circle.( Keep the sealed side of the ball on the top and if the paratha sticks to the rolling pin or rolling surface, lightly dust the paratha with dry flour)
Place the paratha over the skillet and brush a little oil and flip it and press with the spatula and fry till golden-brown color on both sides.
Serve it hot with any raita of your choice.
Meghna Nath
This Recipe Rate :
(0) Reviews