Delicious Potato Paneer Roti Recipe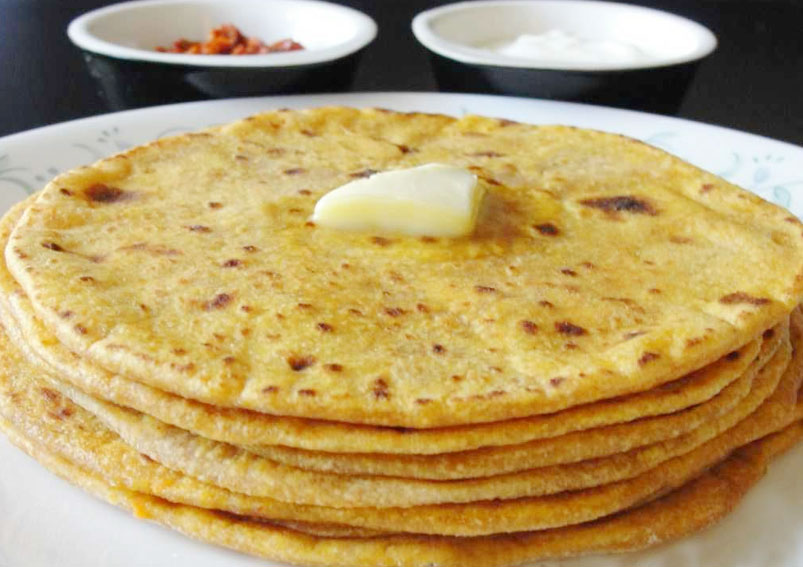 Source: www.indiamart.com
Potato Paneer Roti is a delicious variety of Indian bread. This roti is ideal for lunch boxes or for weekend breakfast or brunch. This delicious roti can be served with any side dish.
Ingredients
1/2 cuppeeled, boiled and mashed potatoes
1/2 cupgrated paneer (cottage cheese)
1/2 cupwhole wheat flour (gehun ka atta)
1/2 cupplain flour (maida)
2 tbspfinely chopped coriander (dhania)
saltto taste
2 tspfinely chopped green chilies
1 tspcumin seeds (jeera)
1/2 tspturmeric powder (haldi)
whole wheatflour (gehun ka atta) for rolling
ghee forgreasing and cooking
Directions
In a bowl add wheat flour, plain flour, mashed potatoes, grated paneer, chopped coriander leaves, green chili, cumin seeds, salt, and turmeric powder.
Mix it well and add enough water and knead it into a soft dough.
Divide the dough into equal portions and roll a portion into 125 mm. (5") diameter circle by using wheat flour.
Grease a non-stick tawa (griddle) with a little ghee and cook the roti by using a little ghee and cook till it turns golden brown in color from the both sides.
Switch off the flame and transfer it to a serving plate and serve it with the ginger pickle.
Meghna Nath
This Recipe Rate :
(0) Reviews