Tasty Apple- Honey Pancake Recipe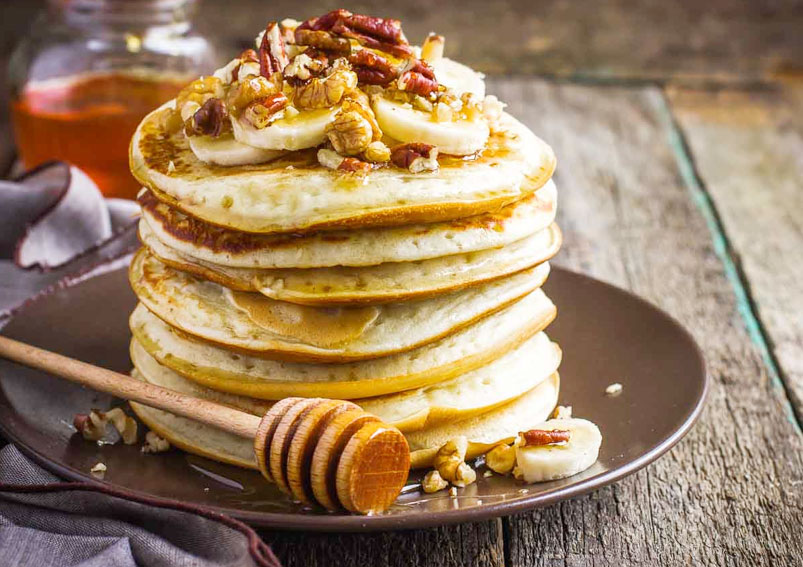 Source: www.archanaskitchen.com
Apple- Honey Pancake is an easy to make pancake which is loaded with nutrients and is a healthy dish.These pancakes are great for breakfast but also can be served as a snack. Let's follow this tasty recipe.
Ingredients
1/2 cupgrated

apples

1/2 tbsphoney
1/4 cupself-raising flour
1 tbspmelted butter
2 tbspcondensed milk
1/2 tbspcastor sugar
1/2 tspfruit salt
melted butterfor greasing and cooking
For Serving
Directions
In a bowl, the grated apple, honey, self-raising flour, melted butter, condensed milk, castor sugar and 2½ tbsp of water and mix it well and make a smooth batter and make sure that no lumps from.
Add the fruit salt and sprinkle 1 tbsp of water over it and when the bubbles form, mix it gently.
Grease a non-stick tawa and grease with a little butter and pour a spoonful of the batter and spread it lightly.
Brush with a little butter and cook till they turn crisp and golden brown from both the sides.
Once cooked, switch off the flame and transfer it to serving plate and drizzled with honey and serve it hot.
Meghna Nath
This Recipe Rate :
(0) Reviews