Tasty Spinach and Pea Rice Recipe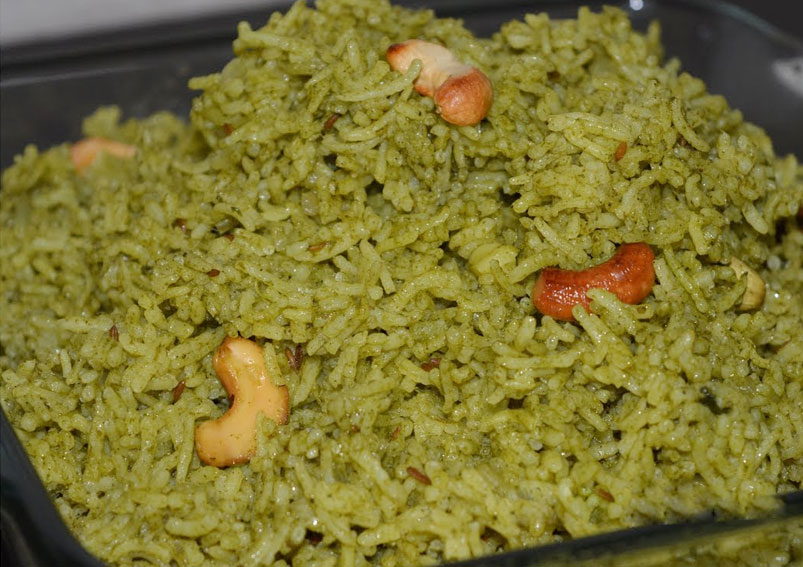 Source: recipeler.com
Spinach and Pea Rice is a simple and healthy preparation of rice. This is a delicious and nutritious dish that is seasoned with different Indian spices. The green color from spinach and pea makes this dish more appealing and tasty.Try this recipe at your home.
Ingredients
2 cupsshredded spinach (palak)
1/2 cupboiled green peas
3 cupscooked rice (chawal)
1 tbspghee
1/2 cupthinly sliced onions
2 tspfinely chopped green chilies
saltto taste
For the rice
1 1/2 cupslong grained rice (basmati), soaked for 30 minutes and drained
saltto taste
1 tbspoil
To Be Ground Into A Smooth Paste
1 cupfinely chopped coriander (dhania)
1/2 tbspgrated fresh coconut
3green chilies, roughly chopped
1/2 tbsplemon juice
1/2 tspsugar
saltto taste
Directions
For the paste
In a blender add chopped coriander, grated coconut, green chilies, lemon juice, sugar, a little water, and salt and blend to a smooth paste.
For cooking the rice
Boil 6 cups of water in a deep pan, add the rice, salt, and oil, mix it well and cook on a medium flame for 8 to 10 minutes or cook till the rice is 95% cooked.
Drain the water from the rice and transfer to a plate and keep it aside to cool.
How to proceed
Heat the ghee in a broad non-stick pan, add the onions and fry on a medium flame for 1 minute.
Add the green chilies and shredded spinach and fry on a medium flame for 2 minutes.
Add the blended paste, cooked rice, boiled green peas and salt, mix it well and cook on a medium flame for 2 minutes and stir occasionally.
Switch off the flame and serve it hot with any raita of your choice.
Meghna Nath
This Recipe Rate :
(0) Reviews