Healthy and Yummy Moong Sprouts Korma Recipe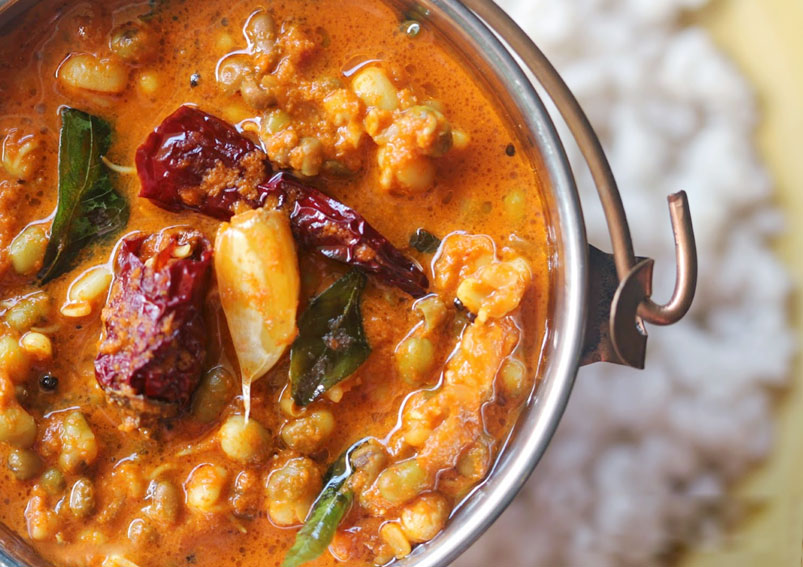 Source: www.ruchikrandhap.com
Sprouts are the healthy and rich source of protein and fiber. So here is a yummy, delicious and healthy Korma recipe made from Moong Sprouts. This is perfect for lunch or dinner.You can relish this dish with roti or rice.
Ingredients
2 cupsmoong (whole green gram) sprouts
3 tbspoil
1/2 cupgrated onions
1/4 tspturmeric powder (haldi)
1 tspcoriander-cumin seeds (dhania-jeera) powder
1 tspchili powder
1/3 cupblanched and finely chopped tomatoes (see the notes below)
2 tbsptomato puree
saltto taste
2 tbspfresh cream
1/2 cupmilk
1/2 tspsugar
To Be Ground Into A Paste
10-12broken cashew nuts (kaju)
1 tbsppoppy seeds (khus-khus)
3clove of garlic (lehsun)
2-inchginger (adrak)
2cardamoms
Directions
In a blender add cashew nuts, poppy seeds, garlic, ginger, a little water, and cardamom and blend to a smooth paste and keep it aside.
Heat the oil in a kadhai, add the onions, mix well and fry on a medium flame for 1 to 2 minutes.
Add the blended paste, mix well and cook on a slow flame for 1 to 2 minutes and stir occasionally.
Add the turmeric powder, coriander-cumin seeds powder, chili powder, 1 tbsp water, mix well and fry on a low flame for 30 seconds.
Add the tomatoes, tomato puree, moong sprout, salt, and 2 tbsp of water and cover, cook on a medium flame for 4 to 5 minutes.
Add the cream, milk, sugar, mix it well and cook on a medium flame for 1 minute.
Switch off the flame and garnish with coriander leaves and serve hot with roti.
Notes
Take 2 medium sized tomatoes, place them in boiling water for 2 to 3 minutes, drain the water and, peel the skin, de-seed and finely chop them.
Meghna Nath
This Recipe Rate :
(0) Reviews