Easy and Simple Chicken Curry Recipe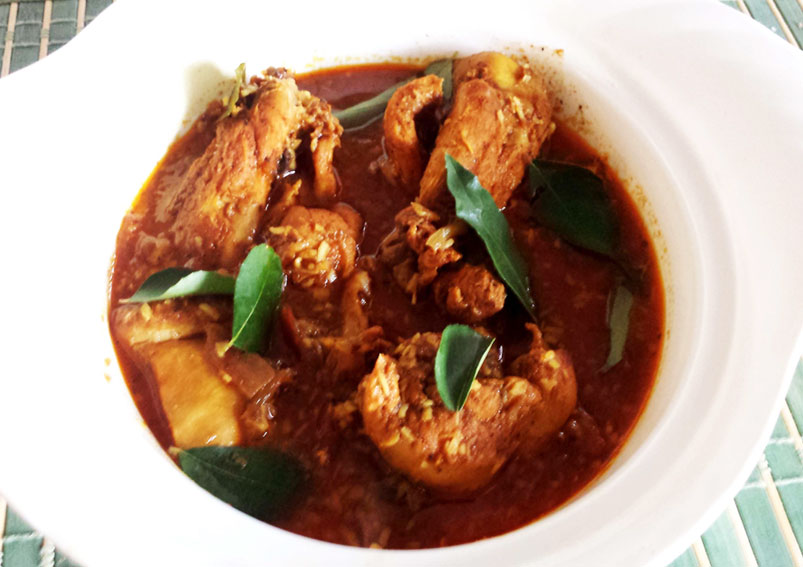 Source: www.recipeler.com
This is an easy and simple chicken curry made with the simple ingredient. It is a tasty, delicious, spicy, and juicy chicken dish. It is a perfect dish on a busy day and can be prepared in just a few minutes.It is perfect for weekend lunch or dinner.
Ingredients
800 gramsChicken, cut into 1-inch pieces
4-5 medium

Onions

, finely chopped
1 tablespoonGinger
1 tablespoonGarlic
4-5 mediumTomatoes
1 tablespoonFresh coriander leaves chopped
4 tablespoonsGhee
1 inchCinnamon stick
4-5Cloves
4-5Green cardamom
1/2 teaspoonTurmeric powder
2 tablespoonsCoriander powder
2 tablespoonsCumin powder
1 teaspoonRed chili powder
saltto taste
1 teaspoonGaram masala powder
Directions
In a blender add tomato and blend to smooth puree and keep it aside.
Heat ghee/oil in a thick-bottomed pan and add cinnamon, cloves and green cardamoms and fry for a minute and add onions and fry till golden brown in color.
Add ginger paste and garlic paste and continue to fry for two to three minutes and stir continuously.
Add turmeric powder, coriander powder, cumin powder and red chili powder and mix it well.
Add pureed tomato and mix it and cook till oil separates from the masala and add the chicken pieces and salt and cook for 5 min.
Add two cups water and cover with the lid and cook till the chicken is soft and tender.
Sprinkle garam masala powder and mix it well and switch off the flame and garnish with coriander leaves and serve it hot.
Nutrition Info
Calories: 1800
Carbohydrates: 77
Protein: 219.5
Fat: 67.9
Other: 25.5gm
Meghna Nath
This Recipe Rate :
(0) Reviews