Easy Carrot and Potato Cutlet Recipe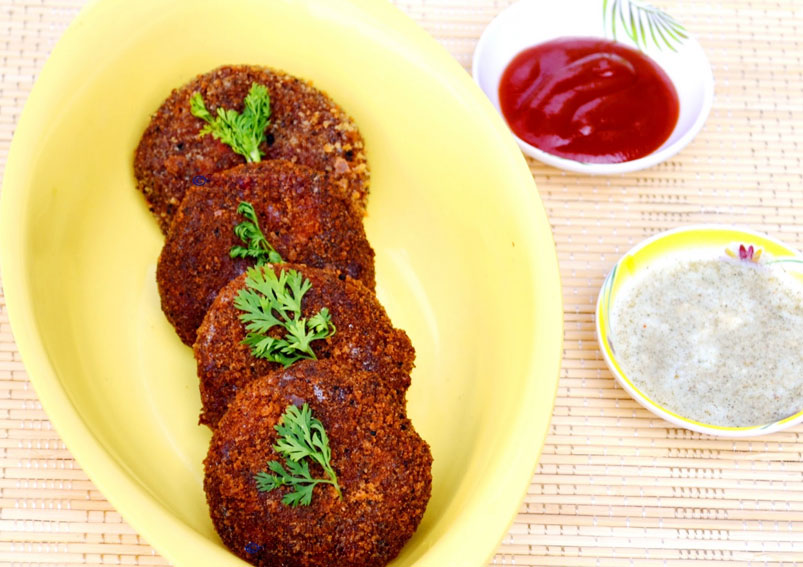 Source: www.sunandaskitchen.blogspot.com
Carrot and Potato Cutlet is a very popular and simple snack. It is very easy to prepare and can be served as a starter or as an evening snack with a cup of tea. Today let us learn how to make this cutlet following this easy recipe.
Ingredients
2 tbspoil
4 mediumsized boiled, peeled and mashed potatoes
2carrots peeled and grated
1green chili chopped finely
1 tbspcumin seed powder
1 tbspfennel seed powder
1 tbspanardana powder (dried pomegranate seed powder)
1 tsphing (asafoetida)
1 tspturmeric powder
1 tbspred chili powder
12 to 14crushed groundnuts
2 tbsprice flour for mixture + 1.5 tbsp rice flour for coating
fewchopped coriander leaves
1 tbspchat masala
1 tbsplime juice
saltto taste
fewlime wedges for garnishing
Directions
In a bowl add mashed potatoes, grated carrot, green chili, cumin powder, fennel seeds powder, dried pomegranate powder, hing, groundnuts, turmeric powder, red chili powder, rice flour, coriander leaves, lime juice, chaat masala, and salt.
Mix it nicely and grease a little oil in your hands and shape into small balls and slightly flatten them with your palm.
Spread some rice flour in a plate and roll these balls over them.
in a pan add oil and place them on hot pan and shallow fry them until golden brown and crisp from all the sides.
Garnish with lime wedges and serve hot with sauce and relish it.
Meghna Nath
This Recipe Rate :
(0) Reviews