Ugadhi Pachadi Recipe - Preparation Process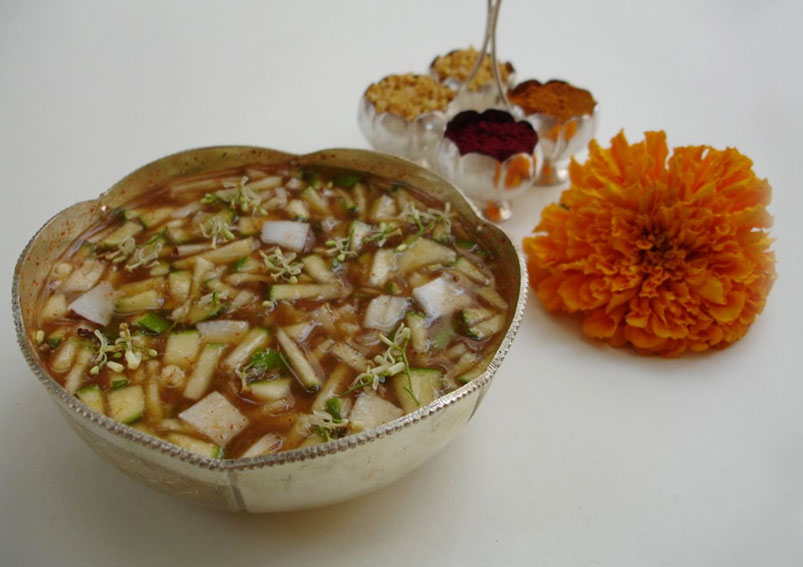 Ugadhi Pachadi or Chatni is a special recipe that is prepared in every Andhra home and is a mixed flavored chatni made of tantalizing ingredients like raw mango, neem flowers, sugar and tamarind juice. Do try this chatni and enjoy the flavor of it.
Ingredients
1 cupRaw fresh mango
1 tablespoonNeem tree flowers
1 cupGrated jaggery
1 tablespoonFinely chopped coconut pieces
3 tablespoonsTamarind paste
pinchRed chili powder
Saltto taste
Directions
Take a mixing bowl and mix all the ingredients
It forms like a sauce. Add little water if you want the chatney to look thin and watery
Add small pieces of sugar cane along with ripe banana in addition to the above ingredients.
Everyone has their version of Preparing Ugadhi Chatni. But in common, it is prepared with the above ingredients. It leaves a melody flavor on your tongue and different ingredients reflect myriad facets of life.
Know what exactly the festival Ugadhi is.
-Neelima
This Recipe Rate :
(0) Reviews