Best Indian Pepper Rasam Recipe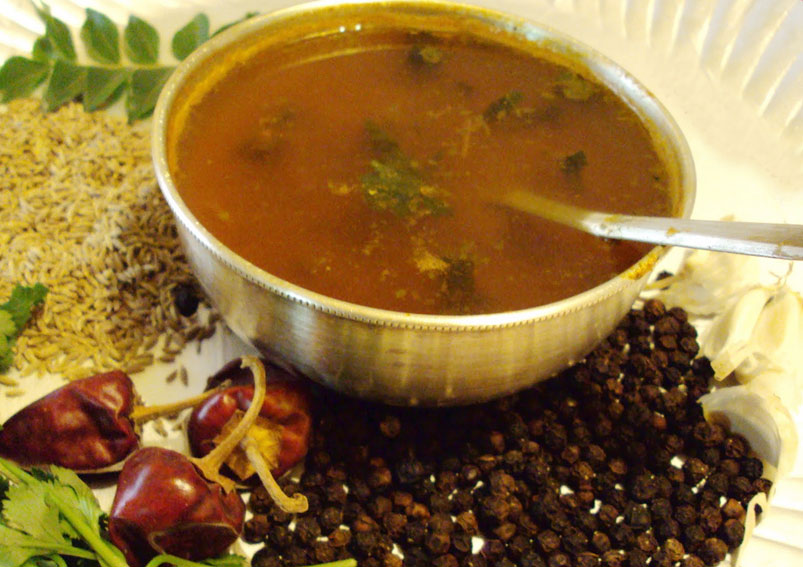 Spicy Pepper Rasam is the best recipe that fights against cold and throat infection. You can have with plain rice or drink as soup as it makes you feel better when you are suffering with cold. It is specially prepared during cold season. Have a look.
Ingredients
3Dry red chilies
1 teaspoonPepper powder
5 clovesGarlic
1 teaspoonCoriander seeds
1 teaspoonToor dal
¼ cupTamarind juice
2Green chilies
¼ teaspoonTurmeric powder
Saltto taste
2 cupsBoiled toor dal water
1 tablespoonOil
½ teaspoonCumin seeds
½ teaspoonMustard seeds
½ teaspoonSugar
¼ cupCoriander leaves
Directions
Place a pan on flame and dry roast red chilies, garlic, coriander seeds for about 1 minute
Add toor dal and curry leaves to it and saute for 1 more minute
Transfer the dry roast ingredients to blender and add pepper powder to it
Blend them to fine powder
In toor dal water, add the powder and mix it well
Place a pan on flame and add tamarind juice, green chilies, turmeric powder, salt and boil it for few minutes for about 5 minutes
Add the toor dal water to the pan and stir it well
Add some sugar to it and boil for 5 more minutes
Place another pan on flame and add oil to it
Add mustard seeds, cumin seeds and saute them for few seconds
Transfer the tampering to the boiling rasam and boil it for 3 more minutes
Off the flame and add coriander leaves at the end.
The tasty rasam is ready to serve. Have it with rice along with Homemade Baked Potato Chips.
-Neelima
This Recipe Rate :
(0) Reviews